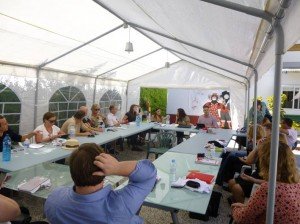 As writers, designers, marketers and social media people we are members of various organisations in these fields. One of these is WABAS – Writers And Bloggers About Spain – which links professionals active across the length and breadth of Spain through the medium of a Facebook group. The latter is of course an ideal medium for this, as it allows members to interact, exchange information, give advice and enter into dialogue on a far bigger and more interactive scale than the bilateral forms of communication we've been used to so far.
The members of WABAS, now numbering around 150, do all these things, and while some are more active than others the one thing that is required of them is that they contribute in some way or another. I met the founder of this worthy group, Graham Hunt, during a business trip to Valencia, and later Graham was kind enough to speak at a seminar we helped organise in Fuengirola. So when Málaga was chosen as the venue for the annual WABAS conference this year, naturally we were there.
Learning from each other
Events of this kind can range from fascinating to boring, and we were giving up part of a weekend, but the great strength of WABAS is that while it has a form of leadership that ensures things actually happen, this is a highly interactive group in which everyone is encouraged to share their know-how and the information they think will benefit others. And that was exactly what happened, resulting in a two-day session from which I learned a lot more than I could have thought.
WABAS 2013 began with the 'troops' gathering in a little hotel in a charming part of Málaga roughly between Pedregalejo and El Palo. The beautiful beach and seaside promenade on this eastern side of the city was temptingly close by, so we enjoyed a modern style tapas dinner on the edge of the sand in a very lively beachside area full of little restaurants and bars. In true Spanish fashion the November weather was remarkably mild and the streets were full.
This part of Málaga is very popular with students of Spanish and those wishing to perfect their command of the language, and the venue for our two-day conference was a Spanish language school called OnSpain. Founded by young entrepreneur José María Casero, who describes this enterprise as the culmination of his dreams, it is a dynamic and growing business run with enthusiasm and dedication. OnSpain is dynamic because it uses both traditional in-class tutoring and online classes, and the very personalised and flexible manner in which they do this, not to mention the friendly atmosphere that pervades the language school, is seeing its reward in a successful business that is growing nicely.
After a classic Spanish breakfast in a nearby café we settled down to business at OnSpain, where Graham discussed not only the usefulness of video as an online marketing tool in modern business, but also the do's, the don'ts and the practicalities involved. Most of those present are more active in providing online content and/or social media, but the discussion illustrated how – if used correctly – other tools like video can be used to further enhance the effectiveness of our efforts.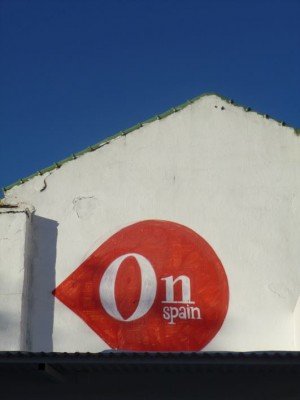 Ben Cooper elaborated on the theme with a very insightful discussion on the finer details of SEO and blogging tools, in which he managed the difficult task of catering to the highly varied levels of knowledge around the table. I use the term 'discussion' rather than lecture, because although these were structured presentations others were able to ask questions and provide additional information. More sessions followed, including writer Belinda Becket, who shared insights and tips on the writing process and received feedback on online promotion in return, and a fascinating talk by Paul Read, who outlined the processes and trends relating to e-publishing, which I'm sure encouraged more of us to embrace it in the future.
There were others who shared their knowledge and expertise, and lively discussions and free exchange of information that followed, but unfortunately we had to cut our stay short because of other commitments. However, I was pleased I had been invited to this business weekend to spend it with colleagues and friends in this way. We listened, asked, answered, made notes, discussed and generally learned a lot whilst also having fun and interacting on a social level. The Saturday paella lunch under a perfect blue sky was a classic experience that underlined why we – who hail from countries such as the UK, US, France and Holland – have chosen to live and pursue our careers here.
WABAS underlined its value and relevance with this great and well-organised event that brought together online professionals from across Spain. The 2013 conference was a great way to learn more, exchange thoughts and meet interesting and often inspiring people – and sets the tone for more to come, and ultimately WABAS 2014!
Special thanks to Graham Hunt and Lisa Sadleir, who organised a great event, and to OnSpain for the super venue.