Gibraltar, a British territory at the southern tip of Spain, is not the first place you would expect to find an exclusive members club, but thanks to the enclave's status as an offshore haven and a leading financial centre it has one of the highest concentrations of millionaires in Europe.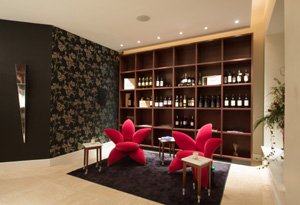 Gibraltar is a true product of history. Captured by an Anglo-Dutch force during the 18th century Wars of Spanish Succession, it has been a British crown dependency ever since. In this tiny territory, perched upon a spectacular rocky peninsula half an hour west of Marbella, a cosmopolitan population of traders and financiers thrive. Property is at a premium, luxury cars a common sight and in the marinas large yachts lie alongside visiting frigates and cruise ships. Drawn above all by its banking facilities and offshore status, Gibraltar is also home to a community of international millionaires.
No matter that 'The Rock' has no golf courses and few resort hotels – local residents have all the facilities of the nearby Costa del Sol and Costa de la Luz on their doorstep – but with the opening of exclusive private members club '55' the need for a local venue that offers privacy, comfort and service in the most elegant of surroundings has been satisfied. Recently opened, the club features state-of-the-art facilities and an opulent décor that marks it out as the leading venue of its kind in the entire southern Spanish region.
A new design reference
Up to now Gibraltar has not been known for its outstanding design. Apart from a few modern office towers and luxurious apartment buildings overlooking the marina this is above all a place characterised by a quaint and rather colonial architectural style. With the opening of '55' The Rock has a leading design reference of its own – and one to rival the best in Marbella. The fact that it is so is in no way a coincidence, as the owners wanted nothing less than the very best. The man brought in to create this private haven of style, exclusivity and leading edge design is Ben Nott of Blanco Architecture + Design.
Settled in Marbella, from where he runs his international practice, he brings to Europe the energy, creativity and passion of a golden generation of young South African architects. A lover of clean, pure design embellished with fine pieces from leading architects and industrial designers, Nott received a dream commission when he was appointed to turn an 18th century building in Gibraltar's centre into a stunning work of modern design and opulence where those accustomed to the finest international clubs would feel at home.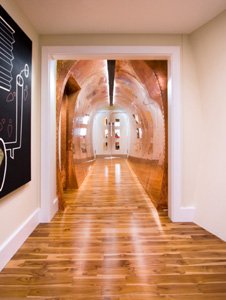 "Creating a stylish design can be done on relatively tight budgets," says the architect, "but of course it makes a huge difference when you have the means at your disposal to create something really special." With big budgets comes a lot of pressure to perform, not just on the creative level but in a way that works. "The greatest challenge was working to the confines of an 18th century building. Gibraltar is very strict on architectural heritage and fire regulations, so we had to keep adapting our original plans on an ongoing basis, but it remains a more creative way of working than simply putting up a new structure."
Skilled craftsmen were brought in to renovate old finds such as the many arches, alcoves and pillars that have since been incorporated into the contemporary décor of '55'. Requested to create an environment of refinement and impact, Nott has made this an address of note, where an understated exterior belies the treasures that await inside. Members come in through a reception area marked out by solid custom made panelling and iconic pieces like Edra's 'fleur de lis' shaped Getsuen fauteuils and Corbeille sofa. Another objet d'art is the Crystal Water chandelier by Brand van Egmond, one of the architect's favoured designers.
Custom-made meets designer collection
Among the many handmade pieces is the reception staff's desk, designed by Nott personally and made to measure by a team of English master carpenters. Crafted from solid rosewood and brushed steel, it is a design element in its own right, but step into the hallway that leads to the various lounges, bars and restaurants on the building's two levels, and you come into contact with a magnificent chrome and glass staircase imported from Italy. Suspended above it is the magnificent Ether 150S mouth-blown glass bubble chandelier by Murano Due – as featured in the film Oceans Thirteen.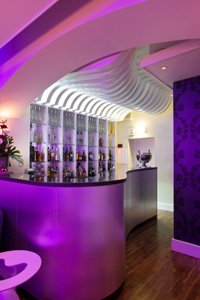 Upstairs, the VIP lounge is restricted to VIP members only, featuring stunning sofas and chairs made especially for this project by design icons Cappellini, Edra and Leolux. These sumptuous pieces form a slightly retro modernist space accompanied by a custom bar designed by Nott. "My brief was to create an individual look and ambience in each room, so no two areas are really the same." To get to the restaurant and private conferencing room, for instance, you have to walk through a copper tunnel fixed together with 20.000 copper nails.
After this impressive feature you enter a small bar area that belongs to a main restaurant whose décor is inspired by Botticelli's Birth of Venus, a detail of which covers a Bisazza mosaic mural on the far side of the room. Making the most of the perspective created by the shape of the space, and the allegorical references in the original painting, Nott has added a sense of drama to this otherwise clean, modern décor by painting the 18th century recesses black and placing backlit shells and anemones in them. White chairs by Porada and amazing red 'broom-backed' seats by Edra are further touches of note.
The most accessible part of the club, the ground floor bar, functions both as a daytime wine bar set amid vaulted ceilings and rounded archways, and a night-time vodka bar complete with changeable lighting structures, ensuring that club members and their guests can work, relax, meet and socialise within the most distinguished of surroundings.