Nestled amid undulating terrain halfway between Marbella and Sotogrande is Finca Cortesin, a country club where golf and the art of refinement take centre stage.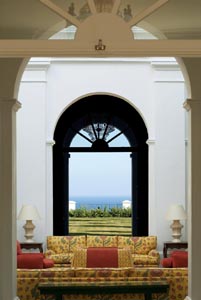 For those fortunate enough to call it home a country club is not only a good address, but also a privileged environment to live in. Many pretenders have sprung up around the world over the years, but the characteristics of a true country club are space, quality and planning – the latter courtesy of a master plan.
The reason why country clubs are so desirable is that, unencumbered by the normal limitations of city planning, its developers can create an idyllic environment in which security, living and entertainment go hand in hand. For this reason golf is an almost integral part of country club life, not only because a golf club and its clubhouse provide a sporting and social hub for a private community of this kind, but also because the sense of living enveloped within the greenery of beautifully kept fairways adds considerably to one's quality of life.
Life in a private domain
Passing under the archway or through the gates of a private country club is another one of its distinctive experience, especially as you make your way along a palm-lined road that winds its way through alternating scenes of golf course and plush residential domains. To achieve this sense of space – where homes are ensconced between the manicured greenery of a fine course, with natural vegetation framing more distant views of the sea and mountain ranges – requires a lot of space. Over two million square metres, in the case of Finca Cortesin.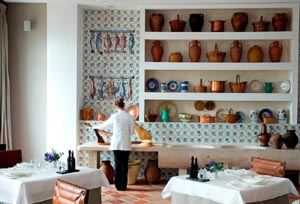 Like all communities, country clubs have a central hub where the main services as well as social activities and facilities are concentrated. Since the developers of Finca Cortesin have taken pride in maintaining the Andalusian feel of this former country estate, this is an environment where indigenous vegetation forms the setting in which Spanish/Andalusian architecture is showcased to its glorious best. Like a modern country estate where plantations are replaced by fairways, the golf club, shopping gallery, maintenance and management buildings, and indeed many of the residential properties and villas resemble stylish country homes in suave Iberian architectural style.
Living with resort comforts on your doorstep
Another advantage of a country club is that, while you are never far away from the life of normal towns and villages, you have a full set of resort standard facilities and services on your own doorstep. What's more, they are private and therefore have a distinct air of exclusivity about them. At Finca Cortesin the architectural styling and layout of the central hub of the community gives it the aspect of a typical little village – but then a rather idyllic way.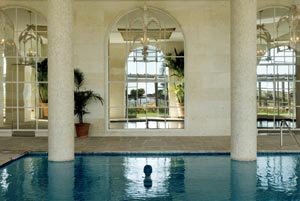 The ability to create a rustic representation that fits so comfortably within its natural and cultural setting is a point of pride. Such endeavours can so easily end up as a mocking pastiche, but taste, attention to detail and many years of expertise make this a truly stylish abode where classic exteriors blend remarkably well with modern amenities and elegant interiors. This is especially evident in the clubhouse and Jack Nicklaus Academy that overlook the course where competitions such as the World Matchplay Championships are held. Complete with a stylish restaurant, stately members lounge area and a beautifully decorated spa and sports club, this is the kind of environment to challenge the very finest of country clubs.
Just a stroll away, down 'streets' bordered by meticulously kept lawns and gardens is the piazza, with its array of shops and services, all of which gravitate towards the focal point that is the five-star Finca Cortesin Hotel. Its décor and services have already garnered reaction from Condé Nast Traveller Magazine, on whose hotlist the hotel features. Stylish and tastefully opulent, its lounges, restaurants, bars, spa, café and indeed suites exude the atmosphere of a stately country home whose staff are there just for you. A great place to meet for a drink, invite friends for dinner or simply sit on the colonial terrace and watch the sun set into the sea. In other words, country club life at its enviable best.