Tuesday, March 23rd, 2010
In the world of motorcycling Triumph is one of those names that reads like aristocracy. Like its car-manufacturing counterpart, the marque was very much at the forefront of the evolving history of motoring, building itself a legendary heritage in the process. The renaissance of this great old name is therefore every bit as important as the revival of the Bugatti brand was – all the more so because today Triumph once again makes some of the most beautiful bikes around.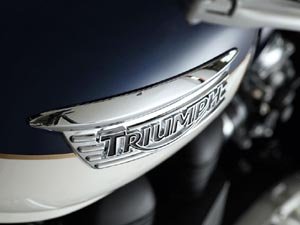 Some give us the advice never to look back, saying that in the world of business – motor vehicles included – there is no place for tradition or sentimentality. I disagree. Cars and bikes are not just functional machines that perform a function. They never have been and hopefully never will be. Instead, they form a surprisingly important part of our society, becoming the stuff of childhood dreams, the driver of many aspirational ambitions, the way by which we are measured in terms of success and above all an expression of our sense of style and personality.