James Bond, eat your heart out!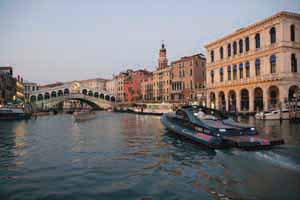 Arriving at the unique setting of the Venice Film Festival is glamorous enough, but imagine how heads would turn if you made your way across the famous Venetian canals in this mysterious beast?
The Lancia Powerboat is just that – a gorgeous beast of a vessel that contains all the raw beauty of Italian styling and the pedigree of the Lancia marque wrapped up in one hell of a package.
Where many auto manufacturer's daydreams remain unsolidified on the drawing boards of their design studios, this wonderful flight of fancy has thankfully made its way into the real world, leaping off the pages at Lancia's famous Centro Stile and straight on to the waterways of Venice, where for once the attention was taken from the stars of the screen.
The looks and setting could have come right out of a Bond movie, but so far Bond has not been lucky enough to get his hands on one of these. And he would be itching to, for this baby doesn't only look fast, it shoots over the water like a jet fighter coming in low.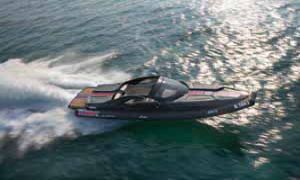 Of course, at Venice it was all glamour and decorum, with gorgeous models competing for attention with the powerboat as they draped themselves across its bonnet, but step on this beast's toes and you will unleash the mighty roar of a 6-cylinder, 6.7 litre FTP engine that produces 560 hp and can propel this 13-metre boat to hair-raising speeds.
For those who are wondering why the auto manufacturer with the rich history in motor racing has now taken to the seas, Lancia did it because, well, they can. Italians are masters at showing off, and when you've got it, flaunt it. In reality the company's link with boating dates back to the magnificent Flaminia series of the 60s and the Lancia Martini combination that dominated both rally and sailing in the 80s, but above all Lancia have used the occasion to show just how creative they can be.
As sponsors of the Venice Film Festival, the resurgent marque could hardly have chosen a better location to make a bold statement and take everyone by surprise with a state-of-the-art water devil that features the very cutting edge of technology and lightweight high-tensile construction materials. For a vicious beast, by the way, this is one luxurious ride. But then again, it wouldn't be Italian if it wasn't also beautiful. And the price? Don't ask.