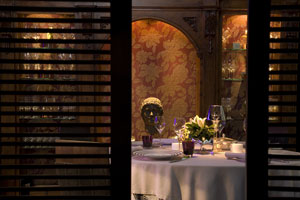 Seating just 24, this most elegant of restaurants offers big city sophistication and Michelin-style cuisine in an ambience of tasteful exclusivity.
To walk into Oyarbide is like stepping into the home of a famous chef. In fact, it is nearer to the truth than you would imagine, for this exquisite restaurant is a project of love for renowned Basque chef Carlos Oyarbide. Having operated leading restaurants in different parts of Spain, including his signature two-Michelin star establishment in the millionaire's suburb of Moraleja – where bankers, television stars and the likes of David Beckham were among his regular clientele – he has now settled in Marbella, seduced by the weather and lifestyle of the famous resort town.
For Oyarbide, life without gastronomy is one bereft of passion and flavour, so although he had officially stepped out of the profession he found himself once more opening a restaurant that showcases the very best in haute Basque cuisine. "The Basque region is currently the beating heart of the Spanish culinary world, and one of the most important gastronomic regions in the world because food is more than a passion to us – it is an everyday celebration of life. Our region is blessed with wonderful produce, from fish, meat and game to vegetables and fruit, and we find ourselves at the crossroads between French and Mediterranean cultural traditions."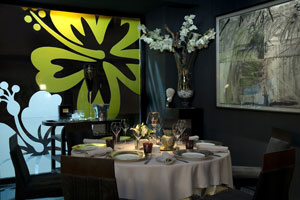 Carlos Oyarbide has built up a reputation as one of Spain's leading chefs and restaurateurs thanks as much to his love of food as to his technical skill. "Food is central to life and to socialising. In our region the men do the cooking, the family eats and many of the important moments in life are played out at the table." Whichever way you look at it Madrid's loss is Marbella's gain, as though there are many luxurious restaurants Oyarbide adds a brand of cuisine and refinement seldom experienced in the town. The fact that this is not a highly commercial operation but a labour of love adds to the pleasure for diners, as it results in an intimate and exquisitely ambient restaurant where the cuisine is of the highest order.
Perfect for small groups and romantic couples, the restaurant's décor and lighting help to create a very discreet and exclusive atmosphere coupled with the kind of service that puts you at ease. A main feature is the Menu de Degustación, an eight-course gourmet menu that showcases Basque inspiration at its finest, accompanied by a veritable cornucopia of wines from around the world. Where many local restaurants largely limit themselves to Spanish wines, Oyarbide's knowledge extends to all the major winemaking regions, including some very fine French, Italian and indeed Spanish vintages.
In a restaurant where you can dine as a king, enjoy the nectar of the Gods and savour the pleasures of a fine Cuban cigar, life is at its very best. All you need to do is bring the company.
Photography:  KH Photography