Having earned this nickname because of its famous connection with Roman Abramovitch, Chelsea FC lies in one of the most desirable parts of London – an area that is also home to a small but prominent Russian community.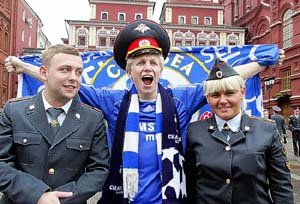 Before June 2003, Chelsea was known above all for three things: Chelsea Football Club, a privileged address within the British capital and the Chelsea Pensioners. Since then, it has become associated with glamorous football, glamorous lifestyles and glamorous Russians.
Situated on the edge between the boroughs (districts) of Chelsea and Fulham, this is a club that uncharacteristically finds itself not in the middle of a sea of red brick workers' houses but surrounded by spacious parks and the leafy streets of one of London's most genteel suburbs. Fine cars parked in front of grand old city homes would not normally go hand in hand with bi-weekly crowds of over 40,000 that pack into Stamford Bridge, Chelsea's historic ground, but here it has become something of a tradition.
The fact is, Chelsea is somewhat of an enigma; a posh area close to the city centre with a football club in its midst that attracts passionate support from a broad spectrum of Londoners. Few posh upmarket areas of this kind have a professional football club and few football clubs find themselves in such a setting. All in all, it makes Chelsea FC a rather unique club whilst giving the borough of Chelsea an added dimension. Perhaps the confusion can be traced back to the 1870s, when the stadium was originally built for the London Athletic Club, only to become a real football ground in 1905.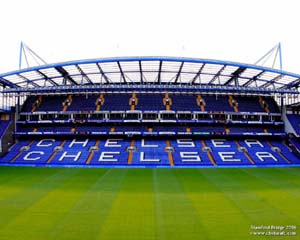 Unusual ambitions
Club and borough have always been intertwined in a most unusual way, a situation reflected in the fact that, for all its loyal support, Chelsea FC has enjoyed two notable periods of success. The first, which started in the mid fifties and lasted until the early seventies, was realised in classic football style with the nourishing of young talent and the building of a team of national and even international importance. Final confirmation of this came in 1971, when Chelsea beat Real Madrid in Athens to win the European Cup Winners' Cup. By then the club had also won a league title and FA Cup.
After this followed years of uncertainty as Chelsea FC's ambitions to redevelop its ageing stadium did not match its means. In the 1990s, however, it was the 'other' Chelsea, that of wealthy bankers and entrepreneurs, which finally lifted the football club out of mediocrity and set down the foundations for both a competitive team and one of the most luxurious stadium projects of its kind in the world. Under the leadership of Ken Bates, Chelsea FC finally became the kind of football club that the borough of Chelsea could associate itself with. Where others might be tempted to sell the old ground and build something completely new a few kilometres away, the club's very identity required Stamford Bridge to be redeveloped instead.
In addition to more silverware, the Bates era produced a beautiful new stadium with five-star facilities normally unheard of in or near a stadium. Rebuilt stand by stand, Stamford Bridge has since become a stunning 12-acre site that features not only a 42,500 capacity stadium, but also two luxurious hotels, five restaurants, conference and banqueting facilities, a nightclub, underground parking and health and business centres. The apartments built on-site are eagerly snapped up and the club has, if anything, added to the property values and allure of the surrounding area. Here, football players, bankers, celebrities and businessmen mix freely, making it one of the most glamorous and dynamic parts of London.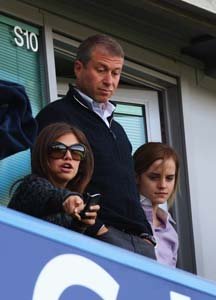 A little bit of Russia…
Since Roman Abramovitch took over Chelsea Football Club in 2003 it has joined the absolute aristocracy of British and European football. Two back-to-back league titles, more domestic cups and a Champions Cup final have rocketed the club to international fame, while the likes of managers José Mourinho and Carlo Ancelotti, players such as Frank Lampard, Didier Drogba and Andriy Schevchenko, and indeed Abramovitch himself keep the club at the centre of the media's attention. This is the club that more than any other personifies the way the sport has equalled Hollywood in terms of glamour, money and stardom, carrying out the name of a suburban London football club to millions of fans in China, India and indeed Russia.
Roman Abramovitch has invested heavily in Chelsea while wealthy Russians have settled in this part of London and added to the cosmopolitan glamour that now marks both club and borough. Many of the luxury shops and fine restaurants in this area cater specifically to them and the multinational squad of players and management of the football club and finance world alike. Together, these elements help to make London one of the most exciting cities in the world, and Chelsea one of the most exciting parts of London.
Who knows where Chelsea, both club and borough, would have been now without Ken Bates, Roman Abramovitch and the prosperous Russian expatriates. Thanks to its generous owner, Ancelotti's squad is likely to continue its prominent role in world football for some time to come. You might even be tempted to say that 'Chelski' is a Russian club in England, but in reality this club, with its fans across the world, belongs very much to the people of this particular part of London.
Some have called Chelsea an artificial top club, created by the money of its owner, but Abramovitch bought into a club with a history that is as colourful and eventful as it is long. In just over a decade, he and his predecessor Ken Bates have more than doubled the club's tally of League titles, domestic cups and European cups, with the Champions Cup looming ever nearer. More than ever, Chelsea's financial and sporting fate rests with him, but in the midst of it all is a core of fans that have stood by the club in fat and meagre years, and will continue to do so no matter what.