Immerse yourself in the sights and sounds of Morocco and wait for the inevitable assault on the senses; in the southern light colour is more vivid, flavours stronger and the world around you delightfully exotic. Forget about the tourists, luxury resort hotels and chic riads owned by the likes of Richard Branson – out here you can feel every bit the intrepid explorer.

1700hrs: We board the FRS ferry from Tarifa to Tangiers. It's a clear day and you can see right across the Straits to North Africa. Our destination lies 35 minutes southwest, just out of sight as we settle down in the surprisingly comfortable lounge and the large catamaran starts heading into open sea. The Atlantic is choppy but the ride's been comfortable as Morocco's gateway to the West opens up before us. I survey the bay, looking for shantytowns and rubble, but am surprised to find neatly aligned apartment blocks facing a long boulevard. Just behind the port lays the tightly packed maze that is the medina (old town), luring us with its seductive exotic charm.
But no, we're off to the railway station to buy tickets for the night train to Marrakech. The very name hints at adventure and I feel my heart beat faster with anticipation as I set foot on Moroccan soil – well, tarmac really. No sooner have we stepped out of passport control than we are 'assaulted' by a friendly mob shouting 'taxi!' at us. Next thing an official card-carrying guide is ushering us to a rickety Mercedes cab, offering to show us the city. When we explain we need tickets so we can board the 9pm overnight train he springs into action, gets our gear (and ourselves) loaded and directs the taxi driver linea recta to the brand new railway station. Ten minutes later, train tickets in hand and with almost three hours to kill, we allow ourselves to be persuaded into taking a tour.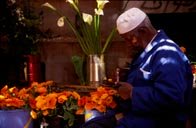 The next two hours pass in an exciting whirl that is a perfect introduction to Morocco. Our young guide, Abdul, sprouts a mix of English, French and enthusiasm as he takes us into the nooks and crannies of the medina, where an avalanche of impressions hits us as we try to keep up. We walk through crowded streets where people sell wares or make things in tiny shops that resemble cupboards opened up to the outside world. Spices, dyes, satins, silks and carpets pass by in a blur of colour and movement, their scents lingering in the air. A short and somewhat farcical but highly entertaining detour to a carpet trader is survived at the expense of a newly acquired kaftan before the pace slows and we're taken to a local eatery. Thankful for the rest, we enjoy a traditional menu du jour while discussing what we've just seen.
2100hrs: Safely tucked up in our sleeping cabin, having said goodbye to Abdul and his wizened old taxi driver, we head off for a trip that will take us from the northern tip of this fascinating country down through green pastures to Marrakech in the dry, dusty south.
Waking up in Marrakech
I can't say it was the Ritz, but as we roll into Marrakech at 7am I feel reasonably rested and pretty excited. Although the Sahara is still a little distance away, I imagine it to be just beyond the Atlas Mountains that guard the city. As another eager taxi driver negotiates the chaotic Moroccan traffic I take in this terracotta town with its jacaranda blossom, donkeys and jellaba-clad ancients, and really feel like I'm in some oasis close to the desert.
Neatly deposited at the edge of the medina, we are met by a man from Dar Fakir, the traditional riad hotel we're staying at. While a porter carries our luggage in a hand-drawn cart, we follow our man through a maze of tiny streets, wondering where we'll end up. At the very end an ornate doorway looms up, and as we step into the hallway that opens out into a luxuriant, sunny courtyard we experience that sense of awe shared by every newcomer to a riad. It's the contrast that does it, stepping from a narrow medina alleyway into such opulence and finery simply takes you aback.
Thick red carpets cover the floor, both in the beautifully furnished lounge rooms and in the large central courtyard, all of which are richly decorated with colonial style Moroccan and Indian furniture, embellished with colourful Murano chandeliers. Above, a two-tiered gallery looks down on us, the first one containing the rooms and suites, and the second a rooftop terrace with a languid Buddha Bar lounging ambience. The rooms are gorgeous – not conventional Four Seasons opulence, but authentic Moroccan style and comfort complete with exotic furniture, tall ceilings and a sumptuous bathroom with giant bathtub. Like an oasis of comfort, peace and luxury within the medina, Dar Fakir adds a touch of authenticity and 1001 Nights glamour that no modern resort hotel could.
Private, safe and relaxed, we never locked or even closed the double doors to our room, but simply drew the thick curtains in the doorway and enjoyed midday siestas in naturally cooled rooms. When not lounging on giant chaise longues in the courtyard we were relaxing on the rooftop – a sort of Nikki Beach in the medina, but minus techno.
Exotic and captivating
The riad was our welcoming bastion of peace and tranquillity – an essential place to relax between forays into this strange and bewitching city, with its myriad sounds, sights and ever-moving humanity. We simply followed our noses, navigating by the massive Jemaa el Fna square or the beautiful tower of the Mamoudia mosque. Like divers before a big jump we seemed to take a breath and plunge into the narrow alleys of the medina, where all manner of wares are offered amid a cacophony of passing pedestrians, donkeys and scooters. The latter don't make the awful noise of Spanish kids' bikes, but dice through the crowd with all the wizardry of Valentino Rossi.
We loved the herbs and spices, carpets, exotic clothes and handcrafted ornaments and jewellery, pulled up our noses at the butcher shop and looked in wonderment at an iguana in a cage, but after an hour or two we were keen to find a refuge in which to escape the crowds. By chance we spotted a sign for the Earth Café, down an alleyway. The first vegetarian and vegan café in the country, this cool, relaxed oasis in the midst of madness is a true find. Run by Barakat Naim, it would look great in Tarifa or Southern California, yet here in Morocco the colours are more vivid and the laid-back style less contrived. Just being visited by a National Geographic photographer/reporter, Barakat still found time to tell us about his new organic country retreat, where visitors can come and stay for free in return for helping on the farm.
Refreshed with organic juices, salads and the ubiquitous but delicious mint tea – and armed with Barakat's advice on how to deal with salesmen, beggars and leery men – we ventured out again, me leading the way confidently, brushing all aside in a friendly but firm manner, while my three 'wives' followed suit. The problem with this theory is that there is no rearguard protection, as the girls found out to their discomfort. I won't go so far as to say that their bottoms were pinched, but it was a close thing, so while Morocco is not a scary place where (Western) women have to go covered up, it is important to dress sensibly and make it clear that you're not going to put up with any nonsense.
Jemaa el Fna
This huge square, into which every single street in the medina seems to empty out its humanity, is an attraction in its own right. Fabled in all the travel guides it is a place to behold, where everyone from mystics and simple country tradesmen to crooks and opportunists gather. Amid the literally hundreds of orange vendors, snake charmers, fortune tellers, mystics and vendors of nondescript items please be watchful of women trying to decorate your hand with henna motifs. It was the only negative experience we had, but when they rounded on us and demanded 35 euros the presence of police uniforms and scores of tourists had suddenly faded and we felt pretty vulnerable. We haggled them down to half that figure, but it wasn't as much fun as the haggling you do when buying a carpet or vase off a bonafide trader.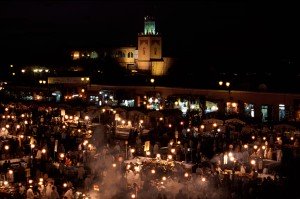 And yet Jemaa el Fna fascinates. Bordered by restaurants, cafés and rooftop terraces, it's like an arena offering a daily – and nightly – spectacle that gives off a very powerful and at times overwhelming energy. Mesmerising by day, it becomes more so at night, when the lights dazzle, smoke rises from dozens of open-air restaurants (complete with benches), and country musicians dance and frolic on the far side of the square. After three days, including a sojourn to the famous Majorelle gardens in the European quarter, we were once again in a taxi, marvelling at the broad boulevards and luxurious resort hotels of the new district. Here, thousands of mostly French tourists fill the streets, shop in modern designer stores or watch the world go by from French-style cafés.
At night they – increasingly joined by other Europeans, as well as a growing number of Saudis and well-to-do Moroccans – sip a cocktail at the poolside, head for stylish restaurants or go looking for a little night time mischief, to be followed the next day by a round of golf or an excursion to the Berber villages of the Atlas. Yes, Marrakech is developing at a dizzy rate, a modern terracotta city rising alongside the old one, yet the invigorating dry heat, exotic sights and bewitching atmosphere will continue to bewilder and appeal for some time to come.
+Details:
http://vip-marrakech.blogspot.com
Earth Café
www.earthcafemarrakech.com
Jardin Majorelle
www.jardinmajorelle.com
Moroccan National Tourist Office
www.visitmorocco.com