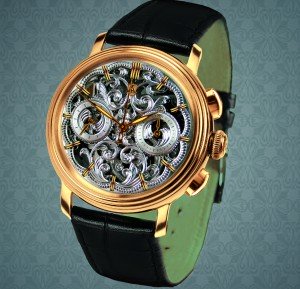 Watchmaker Alexander Shorokhoff is a man fascinated by both culture and technology. As an engineer and enthusiast of Russian tradition he is perfectly qualified to marry the best in modern precision engineering to an artistic vision laced with the distinctive touches of his motherland. The result is a remarkable collection of timepieces that are fast gaining a reputation for Russian excellence in design and jewellery.
Trained as an engineer, Alexander Shorokhoff was working in Moscow when selected to become one of the first professionals invited to study abroad at a free market university. In his case, the road led to Frankfurt, where he would subsequently become involved in watch making. "It was a fascinating new experience and one I took to very naturally," says Shorokhoff. "Even when I was studying engineering in Moscow I always had a fascination with design, geometry and architecture, so working with watches was a perfect environment for me, as it combines both the technical and the artistic sides."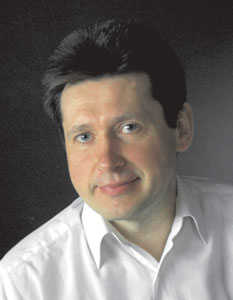 They are two elements that are also prominent in Alexander Shorokhoff himself, who combines technical affinity with a great aesthetic sensibility. Add a passion for history and culture and you have the makings of a true renaissance man. The affable designer would put it more subtly himself, but he admits that he is primarily interested in the Russian classics, be they literature, music, dance or other manifestations of the nation's culture and journey through history. It is not surprising, therefore, that when he founded his own watch company in 1995 it would become dedicated to creating a distinctly Russian brand.
Inspired by the classics
For a man well versed in the works of Tchaikovsky, Dostoyevsky and Alexander Pushkin it is clear that these great masters would form an important fount of inspiration for the handmade watches created at Shorokhoff's specialised factory in Alzenau, a small town near Frankfurt. But his inspiration and home-grown roots of his timepieces go deeper. Though manufactured in Germany, the Shorokhoff brand bears the unmistakable imprint of Russia in everything from its concept to the styling and presentation of the individual timepieces.
"We have a proud tradition in the arts," says Shorokhoff, "not just in such internationally recognised fields as literature, ballet and classical music, but also in jewellery making, fashion and yes, watch making. A local named Semon Bronnikov had made a wooden pocket watch in 1837, but it was especially the arrival of master craftsmen from across Europe, driven by the patronage of the Czarist court to make luxury items for the local nobility, that gradually gave birth to a new tradition. The names associated with Russian craftsmanship in the 19th century include Moser, Gabu, Bure and of course Fabergé."
While much of this disappeared during the Soviet years Alexander Shorokhoff is keen to revive the art of craftsmanship again, as well as a sense of style and expression. It is this concept that lies at the heart of his collection of watches, which range from around €3.000 to beyond €20.000. Using a distinctly Russian design vernacular he has created a series of handcrafted pieces that are inspired by the motherland, but have so far been especially popular in Europe. "Russian buyers of luxury items have up until now been rather obsessed with internationally known brands and foreign products in particular," says Shorokhoff. "This is natural, since we had virtually no luxury brands and master craftsmen of our own when the doors opened in the early nineties. Now, little by little, talented designers, engineers and artists are finding their voice and confidence again, and the concept of distinguished Russian brands, which was inconceivable a mere twenty years ago, is fast evolving. As a result we are seeing more and more Russian consumers starting to search not only for items from their national heritage, but also giving patronage to a new generation of domestically inspired brands."
A distinctive design vernacular
When giving shape to his watches, Shorokhoff pays particular attention to the dial. "Seventy per cent of watches are chosen because of their dial, which makes this the most important visual factor, albeit on a somewhat subliminal level." As a result he is very conscious of its styling and movement, starting with the dial to establish the character of the piece in question and working his way outwards to the case. When working on the interior he is an engineer, when creating the exterior he draws on the architectural part of his training. "For me it is a match made in heaven, as it gives me the exact tools I need to create a piece that is visually in harmony and also technically of the highest quality. This, along with logistical and marketing advantages is why I have so far insisted on producing the watches in Germany, as the technical infrastructure here remains one of the very best in the world."
Whilst complying with the general trends that characterise luxury watch design, the Shorokhoff collection adds a distinctive vernacular that creates a fresh and uniquely Russian feel, with references from traditional motifs, patterns and even materials such as Russian gold giving the brand an unmistakable character of its own. Within the collection, however, each model is highly personalised and would appeal to a widely varied public. While some are solid and classical, others are masculine and robust, or feminine and elegant. The classic purity of pre-war design is prevalent in some of the so-called pilot watches in the range, though always with a distinct Shorokhoff character.
Not shy to highlight their technical ability, Alexander Shorokhoff and his team's creations also include innovations, as well as a model that showcases the internal movements in fascinating detail. Inspired by the great Russian masters of the past, Alexander Shorokhoff pays homage to them by proudly bearing their names on his collection of future Russian classics.
The Shorokhoff range was introduced in Spain at Gomez y Molina jewellers in Puerto Banús, Marbella.