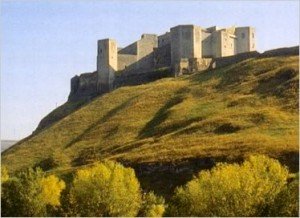 Though set in the midst of peaceful rural country, Calitri is a convenient point from which to explore surroundings that include Vesuvius, Naples, Amalfi, Positano, Salerno, Capri, Benevento, Monte Casino, Herculaneum, Bari, Puglia and the Adriatic Coast, to name a few. You'll be able to reach most of these places in little more than an hour, but if you just want to cruise around the countryside and go for a short trip to visit local towns there is also plenty to see.
At little more than a quarter of an hour's drive from Calitri, Melfi is just such a town. Situated at the base of the heavily forested Monte Vulture, this ancient town traces its roots to pre-Roman times when it formed part of the ancient region of Lucania. Touched also by the Samnites and classical Greeks, it was long a quiet little town within Roman Italy before the fall of the Roman Empire changed the landscape considerably and added further elements to the mix.
Many of these are visible in this quaint town, with its pastel-coloured houses and a local stone that is almost silvery-grey. Ancient relics are not scarce here, and you get the impression that if you started to dig at any voluntary spot you'd soon hit some archaeological artefact, be it classical or medieval. Melfi is in many ways a typically Italian country town; sleepy, provincial and dedicated above all else to the enjoyment of the culinary arts, though beneath this Italian campanilismo lie many successive layers.
After the Romans came the invasions of the 'barbarians', or German tribes for those of us who are more politically correct. Franks, Goths and Vandals were but some of those who raided the remnants of Rome's home domain, but in this region it was the Lombards who stayed. These 'Langobardi', named for their long, often blond beards, melted into the local population, and much of their original culture can still be admired in the local archaeological museum – housed in a building constructed by yet another group of invaders.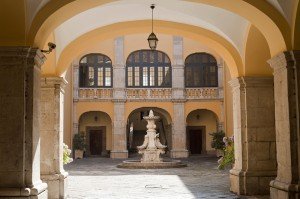 Walking through the cobblestone streets of Melfi it is best to come in the morning or after lunchtime – unless you want to have the town to yourself – for from 1am onwards it gets so calm that even most of the cafés and restaurants close for lunch. Peer up from almost any spot and you will see a silvery-grey mass of rock rising up to dominate the town. This imposing castle, which still manages to look pretty foreboding, is the creation of the Norman knights who subjugated much of Sicily and Southern Italy in the middle ages.
Even before their more famous countryman, William the Conqueror, groups of Normans left Normandy and set their sights on the southern regions of Italy. William de Hauteville made Melfi his base in this expansion, building his staunch castle and establishing a local dynasty that would last throughout the feudal period. It is perhaps fitting that the fortress of William 'Iron Arm' is now the setting of the region's archaeological museum, and in keeping with Italy's rich history it is one that many a large city museum in other parts of the world would be proud of, for it's packed with reminders of the distant past.
All this history and culture is hungry work, so always remember to find a local osteria to enjoy some local cuisine and wine before heading back. If you can, take a look at the artisan shops too, as towns like this still produce local specialities of all kinds – and for the keen photographers among you it is well worth looking out for classic Italian sights like a Vespa three-wheel van rushing past, peppers hanging out to dry like spicy washing or a carabinieri in full regalia stepping out of his black-and-red Alfa Romeo. La Vera Italia indeed!