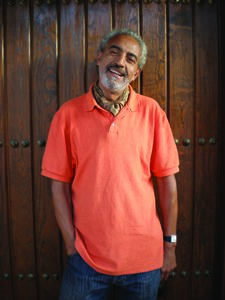 Taoufiq Hsaine is the kind of person you immediately both like and are extremely envious of; a fascinating, resonant and talented man who gives the impression of fitting more into every minute than most achieve in a whole lifetime. As lead tenor saxophonist, his dulcet timbres graced the ears of Bill Clinton, Margaret Thatcher and Princess Diana – amongst others – before Taoufiq set off in his trusty VW to explore the musical landscape of Europe.
His journey took him to Venice, Paris, Salzburg and Prague, but it was Krakow, Poland, that had the greatest effect on him. "I met a wonderful 80-year-old man, a friend of Pope John Paul II.  He was so passionate and he encouraged me to start painting. I did; he bought my first painting and now painting is my life," he says.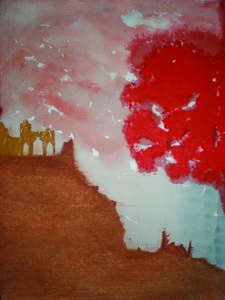 An incredible 16,000kms later, Taoufiq finally settled down in Marbella – perhaps a surprising choice given the rich cultural and musical history of northern Europe. Not for him: "I'm a citizen of the world, for me so many places could be home. There is an old Moroccan saying, 'better to die at 50 having travelled, than live to 200 years old without leaving your neighbourhood'. I loved Northern Europe, even the cold and rain, but the quality of light here – the 'luz Andaluz' – attracted me," Taoufiq explains.
So, what's it to be? Is he a painting saxophonist or a sax-playing painter? "I suppose you could say I chose music, while art chose me," he says. "My saxophone is my second wife. When I play music, I like to touch people's hearts, make them happy. But art is more tangible, something you can look at anew every day."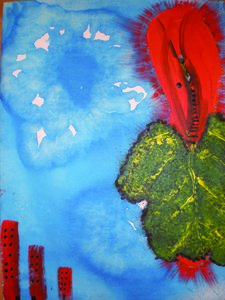 Taoufiq's paintings – spontaneous splashes of colour shaping a stream of consciousness – suggest that he never plans a painting. Recently, he's also started using organic objects, like cinnamon, coffee, henna, sand and bamboo, to create colours. Astonishing, pure and provoking, his paintings could well also be an expression of his music – maybe even his soul.
So what can we expect next from this modern Renaissance man? "I'm working on a new, live performance project which mixes both art and music," he reveals. "It's going to be the best of both worlds; what more could I ask for?"
Photos David Toms
www.davidtomsphotography.com