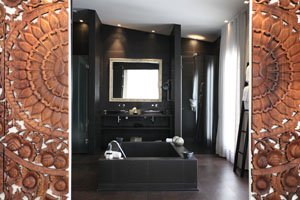 Some places are so impressively stylish and proportioned that they make you feel trendy just by walking around in them. The Puro Mallorca is a fine example. And naturally it's a Design Hotel.
Take an historic palacete in the very heart of Palma de Mallorca – just footsteps away from its earthy markets, trendy cafés and harbour area – and add a brief to convert it into something special. Something with Cannes glamour, laid-back Miami languor and über-cool design that feeds off its historic setting and ambient surroundings.
The result is the Puro Mallorca, a demanding but rewarding project for renovation specialist Alvaro Planchuelo. The Madrid-based architect had built up quite a name for himself creating glamorous modern spaces in classic buildings across Spain and West Africa, but with this particular project he had to call on all his experience and creativity to overcome the technical obstacles.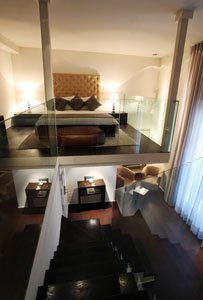 In spite of this, or perhaps because of it, this exquisite hotel of fifty rooms and suites has become a design reference and wonderful example of how old and new can enhance each other to great effect. The lighting, colours, textures and indeed angles of the rooms and apartment-like suites certainly collude to create an ambience of modern sophistication, yet a peek into the atmospheric inner courtyard reminds one of the history contained in these walls.
The place to be
Naturally, the amenities are cutting edge, with computerised systems for sound and music, heating, lighting and information leaving nothing to be desired. The same can be said of the comfort levels, for while the tone is modern it certainly cannot be said to be sterile or minimalist. Form and function come together in richly ambient spaces sculpted skilfully from the existing floor plan of a building designed in an entirely different age.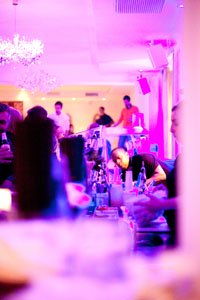 The advantage is that every room, every suite is an experience full of character, not a clean sheet that began life on a computer screen. Planchuelo has done a wonderful job forging sumptuous modern bathrooms, lounges, bedrooms and galleries within the confines of an 18th century town mansion. Step out of your suite or boardroom and into the warm ambience of the Opio Bar and its VIP Restaurant, which have become one of the favourite haunts of the stylish set in Palma.
Alternatively you can chill out in the courtyard terrace, which really comes alive with evening lighting, or best of all, blend the urban chic of Puro with the sights, sounds and scents of Palma on the panoramic rooftop bar at PuroBeach in Palma Bay.