With the exquisite Hyperion – an ode to the sumptuous pre-war limousines – Pininfarina have truly outdone themselves. For once not designed to the brief of a large car manufacturer, but made to measure for a private client, this Rolls Royce-based car is the epitome of elegance and hand-built quality in our era.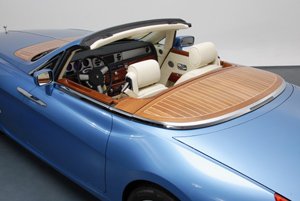 Take a Rolls Royce Drophead Coupé, a private motoring enthusiast with financial means and a team of Pininfarina's finest designers. What you get is the Pininfarina Hyperion – a dream car whose bespoke design and handmade quality hark back to an age when Ettore Bugatti would build the finest chassis and engines in the world, and Jacques Saoutchik or H.J. Mulliner would fit the most exquisite bodywork onto it.
Such times have long passed, yet they live again with the Hyperion, the first car in decades to be built to the personalised standards of a Bugatti Royale or a Rolls Royce Silver Cloud III. In an age of ever more luxurious and superlative racing cars and luxury limousines Pininfarina have taken the process a step further, taking an already gorgeous Rolls Royce Drophead Coupé and literally building upon its solid structure, quality engineering and luxuriant finishing to produce something truly unique.
Inspired by the enigmatic styling of the 'Roller' and the marque's century-long tradition as a maker of the most luxurious cars in the world, the team at Pininfarina added Italian design flair to develop a vehicle that in terms of styling, materials and technology has no peers. You might say that the Hyperion, with its boat-like touches inspired by Rive, forms a class in its own right. It surely sets the standards for luxurious cars in the 21st century, and an act that will be hard to follow by even the most respected of makes.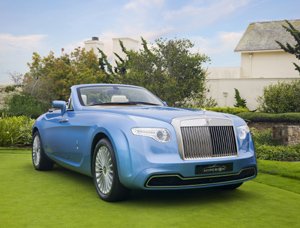 A one-off
First shown at the Pebble Beach Concours d'Eelegance in 2008, the Hyperion took this most aristocratic of motoring events by storm. By the time the car was shown at the Paris Mondial de l'Automobile, the Pininfarina display found itself suddenly at the centre of attention. The fact that this is, in effect, a truly bespoke one-off car has naturally added to the lustre and appeal of the Hyperion, a vehicle destined to become a future classic of legendary status.
One can only guess at the Hyperion's value in the classic car auctions of the future, but for now this handmade cabriolet limousine is a stunning showpiece of what Pininfarina can do in the field of bespoke luxury cars. Indeed, the Hyperion may be somewhat of a first but we think it may just be the beginning of a new breed of super-opulent cars made to order.