Wednesday, August 25th, 2010
I spoke with this talented player who has been described as the 'most exciting young Russian player since Vladimir Beschastnykh', and found him to be a modest young man with a pleasant smile.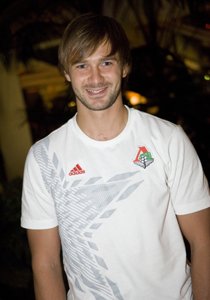 Born in Omsk, Dmitry Sychev comes from a sporting family, his mother a track and field athlete and his father a football player and later trainer. It is perhaps not surprising, then, that Dmitry was destined to become a football star himself, though he combined this passion with ice hockey until the age of ten, when he made the decision to specialise in football.
It would turn out to be a good choice, for after debuting with Spartak Tambov he was signed by Spartak Moscow, before moving to Olympique Marseille in France and, since 2004, back to Russia with Lokomotive Moscow. I met up with him after his team's training session in the Marbella sun. (more…)