Future Perfect
Discover the work of Welsh-born design powerhouse Ross Lovegrove in this beautiful new book by Phaidon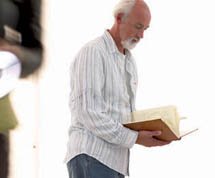 Ross Lovegrove is one of the world's most prolific designers, with a portfolio ranging from furniture to water bottles, from airplane seats to Thermos flasks. When he speaks of design, he uses terms more suited to a biologist, doctor or bio-engineer. In other words, his vocabulary, like his design work, is pervaded with an organic, natural theme that takes physical form in such structures as his 'DNA Staircase' or the iconic biolove bicycle.

In case you think his approach is 'out with the fairies' you'd be very much mistaken. Invited to join the Atelier de Nimes along with Jean Nouvel and Philippe Starck, where he consulted to the likes of Louis Vuitton, Hermes and Dupont, Lovegrove has also designed on behalf of such international brands as Airbus Industries, Peugeot, Apple Computers, Issey Miyake and Olympus Cameras.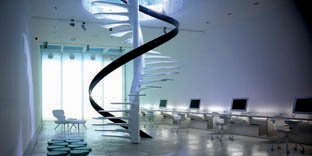 In fact, his innovative concepts have won him numerous international design awards, and his work has been exhibited in museums ranging from New York's Guggenheim to the Axis Centre in Japan and Paris's Pompidou Centre.
Recent collaborations have included bathrooms created for Vitra and even swimming goggles for Nike USA. Born in 1958, Lovegrove studied industrial design at Manchester Polytechnic and at the Royal College of Art in London. Defining and shaping products for the likes of Apple and Sony in the 1980s, his career and his designs have progressed into a design concept that he calls "organic essentialism." Inspired by the natural world, he moulds his works into super-futuristic shapes using technologically advanced materials, and a she is increasingly concerned with reduction, he uses only what is needed in his designs. Form and function are therefore matched without the need for superfluous add-ons.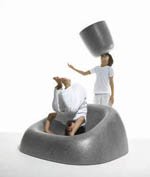 "I'm trying to understand how I can put some of this into objects, which people can be lifted by but that are also responsible in terms of morality and how they use materials and function," says the designer of his latest work.
Supernatural, published by Phaidon, is the first definitive book on Lovegrove's incredible career and is dedicated to the beautiful, bewitching projects and products he has worked on. It's a soft cover coffee table tome, trimmed in silver and packed with plate after plate of intriguing designs. A must have for designistas.
Pullout quote
"Popular culture is not where the value is because it's not sustainable. It's transient, throwaway ideas and I'm not interested in this. I'm interested in the longevity of ideas."
1. Lugg Bicycle System
2. DNA Stairs
3. Ross Lovegrove
4. Bottle design for Ty Nant
5. Basic Thermos Flask
6. Air One Low Chair.
Supernatural is published by Phaidon, www.phaidon.com