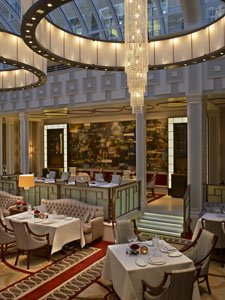 For a truly romantic dining experience Apsleys should be at the top of your wish list – offering the kind of ambience and pampering service you could easily get accustomed to…
Set within the hallowed grounds of the Lanesborough Hotel, Apsleys is the kind of restaurant that breathes elegance, glamour and occasion. No trendy upstart is this, with clever décor and New Speak terminology, but a grand restaurant in which an old-world sophistication adds to the enjoyment. You wouldn't be surprised if James Bond, immaculately turned out in a tux, came strolling through the door, wouldn't bat an eyelid if some famous socialite were at his side. But that is not to say that this is a stuffy, antiquated establishment – far from it.
With its buzzing atmosphere, young, engaging staff and top notch cuisine Apsleys has an edge to it. In this sense it is no different from many other luxurious restaurants in London, except that it blends into the mix a powerful dose of glamour and tradition that merely adds to the occasion. Recently renovated and redecorated it feels comfortably opulent, its tasteful décor featuring classical style in a way that avoids any sense of baroque overdressing and remains thoroughly contemporary. This much is confirmed when you look around you, as the diners are made up of all ages and nationalities, ranging from business parties and gregarious gatherings of friends to moonstruck couples.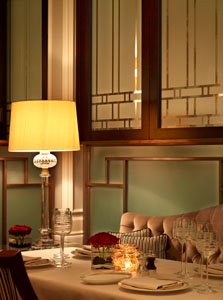 Far away from the culinary sideshow offered by the likes of Ramsey and company, this is a reassuringly fine restaurant where it is all about you, the diner – not about the chef or even the cuisine. Good old-fashioned principles that are sometimes forgotten in this star struck world of celebrity chefs and their egos. That the quality of the food, from the homemade pastas and pastries to the gorgeously prepared meat and seafood dishes, is of the highest quality is something you can take for granted. At this kind of establishment waiters are there when you need them but don't hover around in Basil Fawlty style. They will charmingly advise and share a joke, not batting an eyelid as you list your catalogue of dietary, religious and/or ethical requirements. What's more, vegetarians or those suffering from allergies will not have to settle for second best, but can join the rest of us in the enjoyment of the finest of Italian-based cuisine.
The sommelier, likewise, offers expert advice in a passionate but light-hearted manner, not afraid to speak his mind but never forcing his preferences on the client. After all, this is your night, so sit back and enjoy it, allowing yourself to be treated like a king among kings. Indeed, one of the best things about Apsleys is its atmosphere, best described as both elegant and lively. The biggest surprise will come right at the end, when you get the bill, for although you will have been surrounded by many a millionaire you needn't be one to dine here.