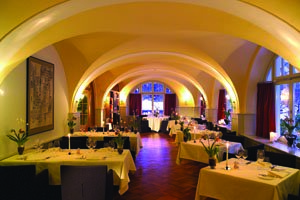 The Grand Hotel Bellevue is a jewel of opulence, style and comfort in the millionaire's playground of Gstaad. All around are the valleys and wooded slopes of a paradisiacal Swiss landscape, green in summer and white winter wonderland at this time of the year.
In keeping with its jet-set location Bellevue is indeed a Grand Hotel in the finest of traditions—a place where well-travelled people come to be pampered in unabashed luxury. No need to apologise for having a good time here, it's understood that that's what people come for, and with sumptuously styled suites, fine dining restaurants, jet-set night spots and one of the best spas in Europe, it's exactly what they get.
The drive up to the grand entrance recalls an age of carriages or classic limousines, but to be honest a brand new Aston Martin or Porsche doesn't look out of place either. Built in the style of a Swiss chalet-chateau, the Bellevue blends classic and modern chic, with stylish Philippe Starck furniture from the public areas to the individualised rooms and suites, which are fitted with private lounges, fireplaces, terraces and Bang & Olufsen entertainment systems.
The Swiss have been masters of the art of spa for 400 years, so they know what they are doing. At the Bellevue you have unlimited access, to a laconium (a gentle bath for purifying and detoxifying the body), a salt grotto (to clear the respiratory tract), an ice grotto, sensation showers and aromatherapy baths. There are several saunas and steam rooms, which are divine after a day on the slopes, but best of all is the unhurried personal care.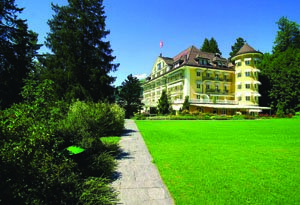 After all that skiing and relaxing in the spa one might be feeling a bit peckish. It goes without saying that the Bellevue has two award-winning restaurants: the Coelho and the Prado. With Chef Richard Mebkhout at the helm both restaurants serve a mixture of local and international fare. The hotel's nightclubs, like its restaurants, are among the best in Gstaad, and a popular spot with those who visit this jet-set destination in the Alps. When you visit a winter ski resort like this, do it in style.
www.bellevue-gstaad.ch