A chance meeting at the Copenhagen Furniture Fair gave birth to a dynasty of sumptuously styled and crafted furniture nurtured by French flair and Russian enterprising spirit.
Roche Bobois is a name that resounds within the world of fine furniture. Through its exquisitely styled 'Les Contemporains', 'Les Provinciales' and 'Les Voyages' ranges, the firm has built a name for taste and quality as it leads us through a lifetime's evolution in classical, country, colonial and modern décor styles. Leading industrial designers have made their impact with the creation of Roche Bobois ranges over the years, not infrequently joined by celebrity names from the world of fashion, such as Ungaro and Kenzo, who add their particular touch to new fabrics and patterns, thus creating a brand whose evolving look focuses more on offering a way of life than just a style.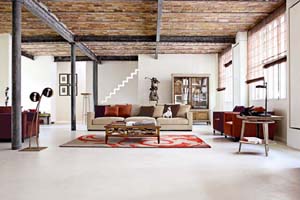 In this sense Roche Bobois offers a philosophy of living and an expression of personal style through the decoration of a home. Each range has a design ethic and ambience of its own, yet by mixing and integrating them into your own décor you can create a living space that is entirely unique and personal, suitable to the lifestyle you wish to have. This, in essence, is what Roche Bobois stands for. Recognising that it is not so much the individual collection of pieces that creates a sense of wellbeing in your home, but rather the way in which you select those that excite you, the firm's creative minds put their energy into designing individual pieces that inspire the senses.
Using fine quality woods, fabrics and leather, the sumptuously styled furniture pieces and smaller decorative elements encourage you to infuse your home's décor with your personality and create your own private space. Décor should be stylish and impressive, but this doesn't mean it can't be fun as well. The space we inhabit, which we call home, should not conform to other people's ideas of style but should be a place in which we feel comfortable, relaxed, energised and alive. We should, therefore, design it around our own happiness.
A pioneering spirit
It is a philosophy that removes Roche Bobois somewhat from the occasionally harsh world of design, where stylistic snobbery can allow the pursuit of trendiness to become a holy grail in which the end-user, or buyer, plays second fiddle. No less dedicated to exploring the boundaries of beauty through design, the stylists at Roche Bobois are also required to balance such pursuits with practicality of use, durability and quality of workmanship. This is why clients are able to choose from a wide range of colours, fabrics and finishes that are then made for them in France. Resisting the temptation to follow the industrial trend towards cheap production in Asia, the firm also doesn't hold large quantities of stock but prefers to have experienced craftsmen make your furniture pieces to measure – so that it fits perfectly in your home.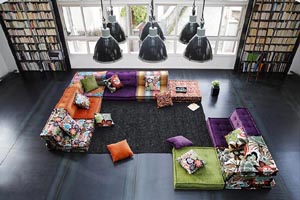 This means you may have to wait for a month, nor indeed is Roche Bobois the cheapest option, but we believe that a company, which maintains such standards of quality and bespoke production should be celebrated. The validity of this approach is also seen in its success; with over 230 outlets in 35 countries, the brand has a loyal clientele that includes – quite fittingly – a large market in Russia, a country that the company shares a particular affinity with.
It would be hard to tell from the name, but one of the founders of Roche Bobois was actually Russian. At about the time the celebrated Roche family were opening their first shop in Paris, the Chouchans were selling furniture in Russia. The latter later emigrated to France and ran a shop named 'Au Beau Bois'. The name, meaning 'good wood', was thereafter respelled phonetically, as Bobois. When the two met at the Copenhagen Furniture Fair of 1960, a shared passion for furniture transformed a chance meeting into the birth of a new company: Roche Bobois.
Where others have gone on to become large corporate entities, Roche Bobois continues to embrace the principles upon which it was founded. Though an internationally recognised brand, it holds true to a simple philosophy of style and craftsmanship at the service of lifestyle.