Marbella is best known for its luxurious seaside resorts, but travel just a little inland, into the foothills of the mighty mountain ranges that run parallel to the coast, and you will find some truly gorgeous boutique hotels set amid the beauty of Andalusian nature.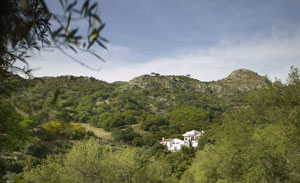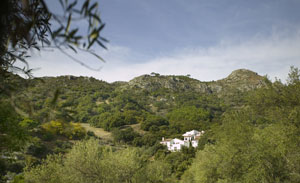 One of the finest of these is Hotel Hermitage, a gem of a rural hotel surrounded by lush green countryside just a short distance from the pretty white village of Casares. From this vantage point the land sweeps gently towards the sea in a carpet of undulating green that turns to hues of ever-changing blue at the coastline. You feel like you're surveying the world, and indeed on clear days Gibraltar and North Africa come into broad view, yet in reality this peaceful spot is no more than a quarter of an hour from the coastal resort town of Estepona, itself just a short distance from Marbella.

Just behind the next hill lays Casares, a tight cluster of whitewashed houses dissected by cobbled streets and alleyways. This is a little town bustling with life, full of restaurants, cafés and picturesque squares or lookout points from where to enjoy yet more enthralling vistas that stretch for many kilometres in a 270-degree sweep.

All you need
The Russian-owned Hermitage is also close to beaches, golf courses and a wide range of outdoor pursuits that include horse riding, hiking and wildlife watching, yet the charm of its décor and the standard of its comfort and services are such that you may just want to give in to temptation and relax exactly where you are. Built on the site of a traditional Spanish finca (country home) the hotel has been designed with utmost respect for both the environment and traditional architectural styling, yet without having to compromise on modern comforts.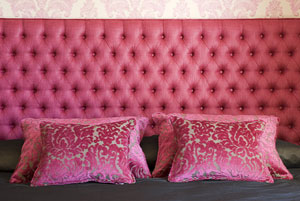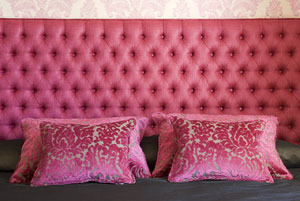 As a result, it exudes the rustic ambience of an Andalusian country estate, with all the peace and natural beauty that comes with it. Inside, the hotel offers a well-matched blend of stylish elegance that is at once contemporary and in keeping with its surroundings. The poolside garden area, terraces and indoor lounge and bar areas form a focal point, while the choice of accommodation ranges from junior suites and independent apartments to a series of sumptuous suites complete with bedrooms, lounge and magnificent terrace with equally impressive views. Just the place to enjoy a gourmet meal and waiter service, within your own al fresco surroundings.
The Hermitage's Celima Restaurant has quickly become a reference point of quality dining within the greater area, offering refined cuisine in elegant surroundings, accompanied by a fine selection of wines from its own wine cellars. In short, the perfect romantic getaway.
Photography: Gary Edwards