Well, we were. After a good but long, hot summer we were ready for a little break – one that would take us away from crowds, traffic jams and the stresses of work. A lot of people, including those that fly down to Spain for their holidays, say they want to get away from the rat-race, only to end up in a different kind of one. Perhaps it's the advantage we have in living here that we can firstly call Marbella crowded and stressful, and secondly find our way to beautiful out-of-the-way spots within a few hours of our own doorstep.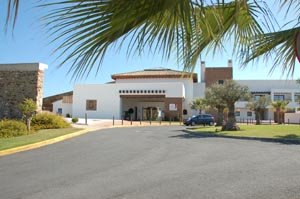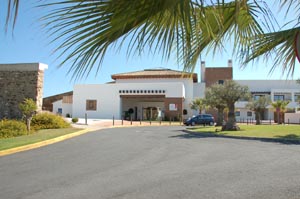 Normally, beach holidays are not our thing. In fact, most holidays will see us soaking up a little culture and excitement in a major city or alternatively heading into the mountains for a weekend retreat from modern life. After a summer of dodging the heat, however, the idea of lazing on the beach sounded just right, and where better to do it than the sandy shores of Spain's southern Atlantic coastline.
We chose El Rompido because it looked good, boasted of being an environmentally friendly resort and because the local El Fuerte Suites hotel had a great offer on. To be fair we didn't know much about this little spot other than that it is roughly between the Doñana nature reserve and the border with the Algarve. Given that most coastal resorts never seem to be quite as nice as they look in the pictures, maybe my expectations weren't too high when we set off on the 3.5-hour journey.
Not a typical seaside resort
El Rompido is situated a relatively short distance from the city of Huelva, though when you're there it may as well be on Mars for this is one of those places that, while not exactly isolated, gives you the feeling of being surrounded by nature, open spaces and (dare I say it?) serenity. A short drive through the local countryside takes you from the motorway exit past the country town of Cartaya and along a pine forest to El Rompido, on the coast. The fact is, this little fishing village is actually not located right on the coast, but on a lagoon created when a stretch of coast got separated from the mainland during the powerful earthquake of 1755 (the one that levelled Lisbon).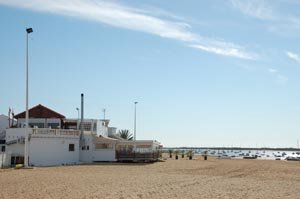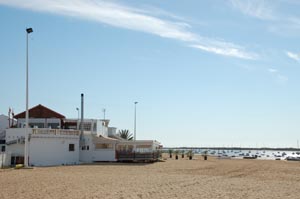 In so doing nature has created a truly wonderful spot on the Andalusian coastline, where the long sand bar that stretches for several kilometres parallel to the mainland not only provides miles of sandy dunes and beaches, but also shelters El Rompido from the harshness of sea winds and wave action. Okay, surfers may prefer the high seas but for the rest of us the tranquil, shallow waters of the lagoon are just perfect as they lay glistening in the lazy September sun. Add the clear light of this region and a fresh Atlantic breeze and the scene is set for true bucket-and-spade idyll.
Not that this is a typical beach holiday resort, though. No, El Rompido can best be described as quite an up-market eco resort that has attached itself to an authentic little fishing village famous for its beachside seafood restaurants. The latter ensures the resort year-round popularity with regional lovers of the sea's cornucopia, but it cannot be denied that the place heaves with visitors in summer and becomes sleepy in winter. I think we timed it perfectly by visiting in September, encountering a place that was lively but never chaotic. Anyway, there is so much beach here that you'll always find a secluded spot.
Sustainable tourism
Having established that this place, with its fleet of little boats bobbing gently in the tide, is more a painter or poet's paradise than the high-rise jungle we normally call a holiday resort, it is also important to mention that El Rompido classes itself an eco-resort – and with some justification. For me, thinking of the environment begins with good urban planning, and in that way this little village deserves an award of some kind. Switzerland it ain't, but by Andalusian standards it is a fine study in urban planning, with a good, logical (tree-lined) road system, bicycle and pedestrian tracks, and a looked after, tidy feel about it. In short, it feels more loved than most places, and that's always a good sign. Instead of the usual opportunistic clutter and over-supply of soulless high-rise apartments and hotels most of the new housing actually seems to be for local residents, and the second home complexes look like attractive country club urbanisations of the kind you'd expect to see in Desert Springs or Arizona.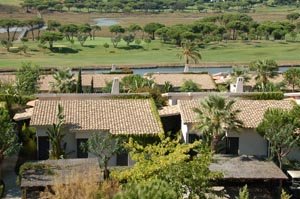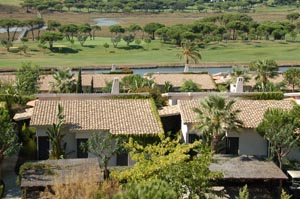 At the heart of the resort area are two hotels, the Hotel Fuerte Rompido Suites and the Golf Resort El Rompido. Especially the Fuerte Hotel manages to do all the things a hotel needs to and still blends in beautifully with its gorgeous surroundings. This is largely thanks to sympathetic architectural styling and clever use of proportions, as well as the fact that the hotel lies within beautifully landscaped grounds.
The main focus, both from the hotel rooms and the stylishly laid out pool area, is naturally towards the sea, but the El Rompido Golf Course, which meanders between the two hotels, is another highlight. The course doesn't need too much in the way of water features as it straddles the natural marshes that boarder the lagoon on the west side of El Rompido. Here, golfers and nature lovers almost converge on wooden-decked pathways that take you through dunes, marshes and pine forests within a protected nature reserve.
Somehow the whole ensemble just adds up to a well-balanced mix that brings together lakes, golfers, fishermen, birds and sailing within a single glance. Of course the sand bar is very much part of this equation, and a little ferry provides an hourly service to and from this secluded spot. We'll have to go there the next time, nor did we manage to fit in a round of golf, some sailing, a dromedary ride, horse riding, mountain biking, kart racing, archery, etc, etc, but we did take the marshland walks, laze by the pool, enjoy seafood by the beach, pop over to Portugal and chilled out with a drink overlooking the little marina. Most of all, though, we managed to thoroughly relax and came back feeling so much better. For those in need of a little R&R we can certainly recommend it.
www.fuertehoteles.com/es/hoteles/cartaya/hotel-fuerte-rompido-suites