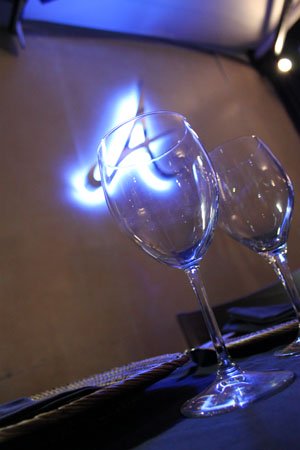 Founded by Italians and known as one of the best Italian restaurants in the Puerto Banús area, Aretusa is a stylish front-line eatery overlooking the marina that also serves a selection of international favourites.
While this will often include French and Spanish dishes and culinary touches, there is also a delightful focus on German, Russian and Dutch food on specially arranged evenings. We went to the Dutch night, which featured a set menu and live entertainment.
I was pleased to find the singer was Dutch – well, Flemish, so Dutch-speaking – though when he saw that about half the diners were of different nationalities he smoothly alternated between Dutch, English and Spanish numbers, and because he was pretty good it set the tone for a great ambience.
Located right on the first line, where you look straight out onto the mega yachts lying in the Puerto Banús harbour, Aretusa isn't that big, but it is all the more atmospheric and welcoming for it. The décor is stylish with a hint of Rome, and the multinational staff can take care of you in most known languages.
As for the cuisine, well, Aretusa already has a longstanding reputation for the quality of its Italian dishes, so we were keen to see what chef Valerio Baldassare would do on a Dutch-themed night. To be fair, Holland's gastronomic tradition consists mostly of hearty country food and more recent fast food and finger food additions that don't really lend themselves to restaurant dining. For that reason posh nosh in the Netherlands soon acquires a distinctly French feel, though the blending of these neighbouring cultures has produced some classics.
On the night, they came in the form of a choice between two starters: French style onion soup or asparagus with mature old Amsterdammer cheese. Asparagus being a very popular vegetable in Holland, this was the more typically Dutch of the two offerings, but I couldn't resist the lure of one of my favourite soups, just the kind of thing to start with on a winter evening.
With service fluid and attentive, we could focus on enjoying ourselves and looking forward to a main course of sole on a bed of mashed potatoes, sweet potato purée and spinach with Hollandaise sauce. A dish of personal inspiration but reflecting the traditional Dutch love of fish fillets and vegetables like spinach, this was a well-crafted main course with delicately balanced flavours.
The desert came in the form of a gorgeous cheesecake infused with a rich berry sauce that topped off a great evening in style. Accompanied by a selection of fine Spanish Riojas, live music and a full restaurant creating the perfect ambience, Aretusa's Dutch Night was in my opinion a great success. So whether you come for its highly rated Italian cuisine or opt for rather more exotic themed evenings, Aretusa is a restaurant in the port that combines style, ambience and good food.
Note: The set menu on Dutch, German and Russian nights is 20 euros
Look out for the Valentines Day offer