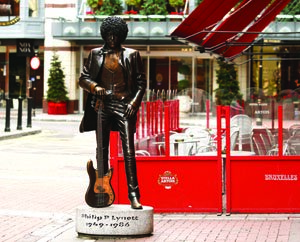 From opulent shops, restaurants, hotels and trendy night time spots to thriving culture and beautifully renovated historical sights, Dublin is at the forefront of a modern revival boosted by high economic growth and the rise in wealth that accompanies it. Gourmet, Michelin-star aspiring restaurants have mushroomed, as have avant-garde design hotels and bars, not to mention a plethora of shops and boutiques where it is surprisingly easy to spend profusely.
Amid all this new energy and forward-looking confidence there are still the old famous sights to enjoy, like Trinity College and the town castle. Chances are they've had a recent clean up and look as revitalised as the city feels, but search a bit deeper and you will still find the Ireland of old, with its sticky-carpeted pubs that smell of stale beer and haven't seen a decorator since the Suez Crisis. Such places offer little to please the eye yet it is here that you will get a glimpse of the character and sense of humour for which these islanders are famous. Whatever your preference, seek and ye shall find…
It's all about the people
Some cities have marvellous monuments, others fabulous shopping, culture or nightlife, or perhaps an imposing location, but Dublin's charm lies above all in its great heart. This is a city with many a lovely historical sight, as well as great shops and eateries, but the lasting impression you'll leave with is of a city with a disproportionately large number of nice people.
So keep your wits about you as you order a meal, sit back to enjoy a drink or step into a taxi, as a ready smile is matched with sharp wit and a well-practiced sense of humour. Dublin, Baile Átha Cliath in Gaelic, has only recently emerged from its status as a rather forgotten European backwater to become the dynamic, prosperous and vibrantly beating heart of the Celtic Tiger.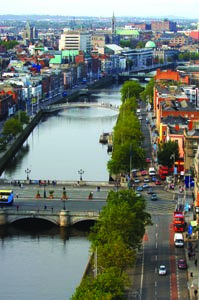 Finding your way around
The pick of trendy, imposing or quaint accommodation poses the same complicated choices as in any other self-respecting capital these days. Those who associate city visits with a hefty dose of shopping will find their Walhalla in and around Grafton Street – where the Powerhouse Court is a must-see – but while treating yourself to the good things in life also take time out to experience those that set this city aside from any other. During the day, they can be found simply by wandering around the centre and soaking up the easy-going, sometimes even bohemian atmosphere. In this city of James Joyce and Oscar Wilde, where passions run deep and Guinness fires poetic instincts, it isn't surprising to find that one of the main football clubs is actually called Bohemians.
A leisurely stroll through Dublin's streets and parks will also take you past such Irish icons as Dublin's ancient castle, Christchurch Cathedral, its world-famous Trinity College and above all, the Guinness Brewery. Founded in 1759, this huge old brewery on Crane Street is a testament to a Dublin success story and Ireland's most famous export. Enjoying a pint of 'the black stuff' from the brewery's panoramic Gravity Bar is a great way to prepare for an inevitable nighttime excursion into the lively Temple Bar District.
Originally known as 'porter' because it was the preferred drink of London's dockside porters, the smooth black beer jelled perfectly with Ireland's clear spring water to become an international icon. The crowds at the imposing Victorian factory now turned museum come from all over the world, and their reverence has something of a pilgrimage about it. Working your way up the skilfully renovated and rather cavernous eight-storey interior of the museum, you know there is a stunning city panorama and a cool pint of Guinness waiting for you on the rooftop – and a fantastic souvenir shop back on the ground floor.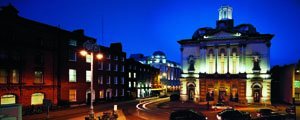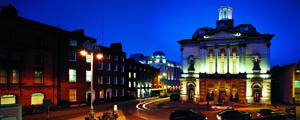 When in Rome…
Dublin is famous for its charming authentic pubs. Unlike the Irish theme bars that have descended upon the rest of the inhabited world, the majority of the city's thousand or so pubs are actually real and full of the lively atmosphere that the Irish are so famous for. With its concentration of picture-perfect pubs, trendy clubs and excellent restaurants offering anything from sophisticated worldwide cuisine to traditional Irish stew, mussels, and steak and Guinness pie, the Temple Bar District is the one that heaves with life at night.
Step into a classic Irish bar like Oliver St. John Gogarty, in the heart of Temple Bar, and you're met with a lively atmosphere that's often added to by live music. Nighttime restaurants here can be sophisticated or trendy, lunchtime haunts usually more informal, while both shopping and nightlife combine old charm with modern hedonism.
Don't expect any of this to be cheap, though, as Dublin has become a sophisticated European capital, but if you enjoy a fun atmosphere and sense of humour as much as you like the finer things in life, then Baile Átha Cliath certainly has the means to put a smile on your face.