No- and low-alcohol beers have been gaining some traction of late in several markets but there's one country where NABLABs have been embraced by consumers like no other. Michel Cruz reports from Spain on the rise of low alcohol refreshment.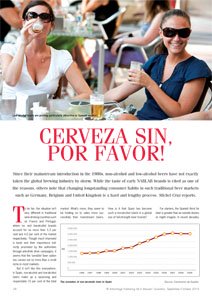 In many ways the Spanish beer market is much like that of the rest of Europe. After years of rapid growth the current economic climate has seen production drop somewhat, with on-trade sales falling and consumer focus turning to economy brands available through off-trade channels. Where the country clearly stands out, though is the fact that Non-Alcoholic Beers and Low-Alcohol Beers (NABLAB) are consumed at around three to four times the average European rate. We wondered why.
Since their mainstream introduction in the 1980s non-alcohol and low-alcohol beers have not exactly taken the industry by storm. Most beer drinkers still prefer the taste of alcohol in their lager and continue to overwhelmingly consume 'conventional' beer types in spite of the pressures of anti-drink driving campaigns. Many seem prepared to single out a 'designated driver' for abstention rather than opting for the range of alcohol-free products that are available. While the taste of early NABLABs is cited as one of the reasons, others point to the fact that changing longstanding consumer habits in such traditional beer markets as Germany, Belgium and the UK is a hard and lengthy process.
To be fair, the situation isn't very different in traditional wine-drinking countries such as France and Portugal, where NABLABs account for no more than 5.3 per cent and 4 per cent of the beer market respectively. Though much improved in taste and promoted by the authorities, it seems that the 'sensible' beer option has carved out no more than a small niche market for itself. But it isn't like this everywhere. In Spain, non-alcohol and low-alcohol beers make up a respectable 15 per cent of the total market. What's more, they seem to be holding on to sales more successfully than mainstream beers. So why is Spain such a non-alcohol island in a European sea of full-strength lager?
Beer consumption in Spain
In recent decades, Spain has made the transition from a predominantly wine-based culture to one that has embraced beer in its everyday life. Per capita consumption stands at 50 litres and the country now ranks fourth among European producers, with a market that has reached a high degree of maturity after many years of growth. The highly developed summer tourism sector has contributed greatly to this, as has the relative shift towards beer amongst younger consumers. But none of this explains why it is here of all places that non- and low-alcohol beers are so popular.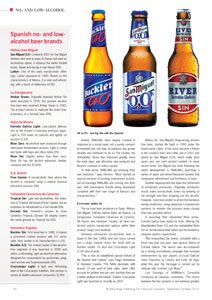 Does the answer lie in tough drink driving laws? Certainly, Spain has strict rules in this regard, with maximum blood alcohol levels of 0.5 mg per ml being well below the level in the British Isles but on a par with most mainland European countries. The enforcement of these laws is pretty active, with regular checks on the roads – especially during holiday periods – and penalties involving both fines, driver's licence points and, in particularly bad cases, criminal proceedings. Yet why is it that beer drinkers in Spain appear to heed such warnings more carefully than in countries with similar levels of enforcement?
Jacobo Olalla, director general of the Spanish beer association, Cerveceros de España, puts it down to cultural differences. "In Spain, beer is traditionally associated with refreshment, not with its alcoholic content. This is why the vast majority of Spaniards consume beer in moderate quantities, while those who do focus on alcohol prefer stronger spirits such as rum."  He cites the Mediterranean tendency to enjoy alcoholic beverages as part of a social ritual that is convivial and almost always accompanied by food. "This has a moderating effect on the manner of drinking, the volumes consumed and levels of alcohol absorption. We all know the dangers of drinking on an empty stomach, but here in Spain there generally isn't much danger of that, as for Spaniards it is the socialising, not the drinking, that is the main object and eating or snacking is very much a part of that."
The country's tapas culture thus makes a very positive contribution in promoting – albeit largely subconsciously – a balance between socialising and the consumption of alcohol. "All of this contributes to a greater acceptance of non- and low-alcohol beers," says Olalla. "Since few people drink beer largely for its alcohol content they are far more accepting of NABLABs as an alternative option on those occasions when they cannot consume alcohol or have already reached the legal limit. Lunchtime meals are a good example, as consuming alcohol during the day makes you drowsy, especially in a hot climate like that of Spain."
"Many of my friends will start off with a beer or two and then switch to a non-alcohol one afterwards," says Javier Herrero, marketing manager of Mahou-San Miguel. "This certainly points to an acceptance of non-alcoholic beers in themselves, but also to the fact that 'normal' beers are still very often the first choice."
Indeed, NABLABs were largely created in response to a social need, not a purely consumer-oriented one, but their acceptance has grown steadily and continues to do so. Put crudely, the 'drinkability' factor has improved greatly since the early days, and attractive new products and flavours continue to entice people. "In that sense, NABLABS are enjoying their own evolution," says Herrero. "Most started as special versions of existing mainstream brands, but increasingly NABLABs are coming into their own, with stand-alone brands being developed complete with their own range of flavours and characteristics."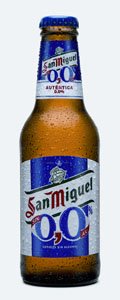 Product development
Of the five main beer producers in Spain, Mahou-San Miguel, Estrella Galicia (Hijos de Rivera), La Zaragozana, Compañía Cervecera de Canarias and Heineken España, all have non-alcohol and/or low-alcohol options within their product range. The Heineken Group introduced non-alcoholic beer in Spain in the late eighties, and has since carved out a large market share for itself with its Buckler (under 1% ABV) and Cruzcampo Light (2.4% ABV) brands. "This is now an established special feature of the Spanish beer market," says Diego Antonianza of Heineken España. "The NABs dominate, with around 13 per cent of total sales, while LABs account for another two per cent, but then they are a newer addition to the market." Indeed, Cruzcampo Light was launched as recently as 2007.
Mahou Sin, San Miguel's long-serving alcohol-free beer, started life back in 1990 under the brand name Laiker. It has since become a fixture in the country's bars and cafés, but in 2001 was joined by San Miguel 0,0%, which really does sport zero per cent alcohol content. In more recent times San Miguel has been following the latest development in NABLABs, launching a series of apple and lemon-flavoured variants that emphasise the focus on refreshment and freshness of taste in this market segment.
Another development has been the refinement of production processes. Originally, producers would make non-alcoholic beers by brewing to full strength and then stripping out the alcohol. However, now most prefer to arrest fermentation during production, using advanced computerised systems to monitor the process more closely than was possible before. In launching their rebranded River series, Estrella Galicia have opted for both, offering the blue-labelled River 0,0 and the red-labelled River Sin as fermentation-interrupted and fermentation-stripped options respectively. "We re-launched the brand, complete with a fresh new look last year, says Ignacio Rivera of Estrella Galicia. The launch was accompanied by a strong promotional campaign that included endorsement by star players of local Galician clubs Deportivo la Coruña and Celta de Vigo, while this year the message is carried out by veteran rally co-driver Luis Moya."
"The choice between the two systems is one between greater initial investment that is paid off by greater control during production and better-tasting beers," says Luis Durango of the Compañía Cervecera de Canarias. "We're always working to improve the taste, so it's worth investing in new techniques like this to improve quality and indeed quality control." He also confirms that the 'sin-alcohol' segment in the Canaries lags a little behind mainland Spain. "The main patterns of consumption are actually very similar to other parts of Spain. It's just that tourism accounts for such a large part of our market in the Canary Islands, and this is where we see a clear difference in drinking habits." In other words, tourists – especially those from northern parts of Europe – have not embraced NABLABs to the same extent as Spaniards. Even when on holiday in a hot summer climate they still overwhelmingly choose 'normal' beer over non/low alcohol alternatives.
Historical and future context
It highlights the cultural differences that do much to explain Spain's unique level of acceptance of NABLABs, but also points to the fact that they have been present in the Spanish beer market for much longer than one might suspect. In fact, the first alcohol-free beer was La Zaragozana's Ambar Sin, first launched as far back as 1976! Clearly proud of its groundbreaking credentials, La Zaragozana still stresses this point in its advertising today, even though the brand name changed to Ambar Green in 1993. The latter reflects a commitment to the environment, a fact that clearly tells us something about people who drink NABLABs.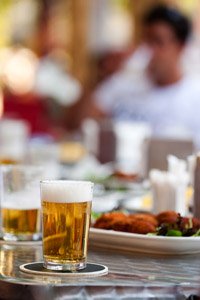 "We recognise that drinkers of non and low-alcohol beverages tend to be rather progressive in their views," says Enrique Torguet of La Zaragozana. "We feel that way too and point to the fact that in Spain the 'alcohol-free' revolution started in Zaragoza." Still an innovative company, they believe they have the finger on the pulse when positioning their NABLAB offering as a socially responsible, healthy and indeed environmentally sustainable alternative to conventional beers. "Ours is increasingly a low-alcohol society," says Torguet. "The amount of traffic and the general pace of modern life are such that you simply cannot consume the amounts of alcohol that people did in the past. As this trend gathers pace, so the NABLABs will gradually gain more and more ground."
If he is right, and there is no reason to believe he isn't, then this is most likely the beer segment with the greatest future potential, but who makes up today's consumers and what are their characteristics and preferences? "Research has borne out that most of our alcohol-free consumers are men above forty," says Luis Durango of the Compañía Cervecera de Canarias. "Moreover, they come from across the various strata of society and are often designated drivers or lunchtime consumers." Such knowledge allows brand managers to target their products and accompanying promotional campaigns at rather specific population groups, playing to the known preferences and drivers of the target audience in question.
However, such perceptions can vary from company to company, as is borne out by Heineken's Diego Antonianza, who lowers the age boundary to 30 and includes women in equal measure. "This is especially true of low-alcohol beers, which are particularly attractive to women because their lower alcohol content also makes them less fattening than other beers. Though health considerations are still not a primary driver they are becoming more and more important in the choice of which kind of beer to consume."
The picture painted here is however not an entirely homogenous one. Where younger people, and women in particular, are motivated by 'low-calorie' beers and the idea of a healthy lifestyle, older consumers are often driven to non-alcoholic beers by existing medical conditions and the desire not to exacerbate them. As society ages, becomes more health conscious and increasingly intolerant towards drink-driving, these processes will serve to promote the concept of beer as a refreshing beverage to be enjoyed at and associated with positive social interaction. In other words, there is every chance that the Spanish model of consuming beer will spread across the continent in time – and with it greater acceptance of non-alcoholic and low-alcohol brands.
This article originally appear in Brewers Guardian Sep/Oct 2010 issue