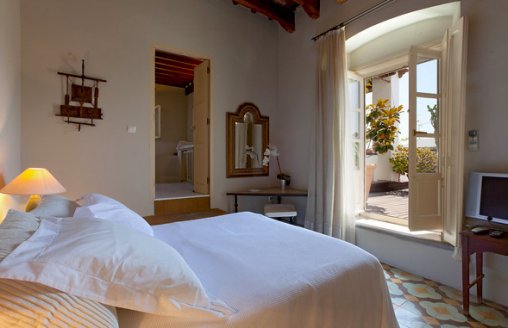 In the heart of the old town there is an enchanting home that encapsulates the charm, elegance and the unique ambience of Tarifa.
This article first appeared in Essential magazine and is for sale with Tarifa Direct.
Words: Michel Cruz, Photography: pierrerichardsonphotography.com
Tarifa's historic centre is a small but attractive maze of little streets and squares populated by white-plastered houses and stylish boutique hotels. Some are grand, others unassuming, but an occasional glimpse through an open door reveals the oasis of peace and fresh air created within the courtyard patios of even the humblest of homes.
It is in such a street that one finds one of the finest properties in Tarifa, a town kept small, attractive and rich in unspoiled nature thanks to the fact that so much of the land and coastline surrounding it forms part of one of the largest protected nature reserves in Europe. It is because of this that you will find no sprawling suburbs and high-rise hotels here – in itself the reason why Tarifa remains such a unique and much-loved destination among people from across Europe and even as far a field as the US and Australia.
Bordered by three streets in the charming historic quarter of Tarifa, the attractive exterior of this fine señorial house gives away little of what lies within, yet step through the main door into a classical entrance and you come upon a private domain rich in charm, style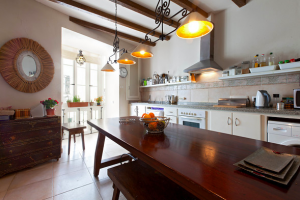 and the best of Tarifa chic. Dating in its current form to 1893, the grand town house was lovingly restored by Dolores, who kept as many original features and authentic materials as was possible.
"It was quite an undertaking," she says. "The house had been neglected for some time, but over a period of seven years we gradually restored it to its former glory, trying to keep the original charm intact as we brought the levels of comfort and sophistication up to date as well." Having lived across the world, from Mexico and France to Singapore, Dolores and her family fell in love first with Tarifa and then this wonderful home and its setting. "As anyone who has looked for a property here knows, buying a house in Tarifa is not as straightforward as elsewhere, where a steady stream of new-built properties has been constructed over the years. There are new homes in Tarifa, but the true charm and authentic lifestyle can only be found in a few places, and this part of the old town is the main one."
A touch of Provence on the Costa de la Luz
The house is built over three floors, at the centre of which stands a classic Andalusian courtyard that spreads its cool, refreshing ambience throughout the house. Peaceful and serene, its marble floors and classic Hispano-Moorish tiles abound in the sunlight that falls through the courtyard's glass roof, two storeys up. "It's like a huge skylight, allowing light to flood the home without affecting its cool, fresh air," says Dolores.
In addition, the courtyard is a perfect spot in which to relax to the soothing murmur of a fountain or enjoy a drink with friends. Dolores uses this feature to great affect, having converted two of the three surrounding rooms into beautifully designed and decorated suites that are a highly popular private option for guests of the nearby La Sacristia, one of Tarifa's prettiest boutique hotels. "The interior decoration is by my brother, who is a renowned interior designer, and I believe he has created a truly wonderful ambience that reflects Tarifa chic, though perhaps with a touch of Provence."
Both the suites have independent access, while a third space previously used as a shop could easily be converted into a suite also.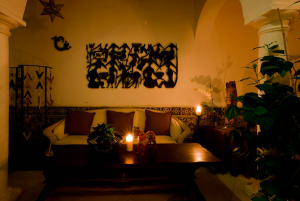 "This home offers a great many lifestyle options and even income-earning possibilities," says Dolores, who has given over the ground floor to lucrative suite rentals without compromising her own home's privacy and independence. "Thanks to the spacious courtyard and independent access both we and our guests can enjoy our own space."
This becomes clear as you approach the first floor, where the fresh air and open space of the courtyard, combined with the classical Spanish bay windows, creates a bright and breezy atmosphere. Again, many of the classic tiles, light-painted wooden doors, lovely tall wood-beamed ceilings and other period features such as a delightful classic pulley system for opening the door have been preserved and incorporated into a comfortable contemporary home. On this floor there are three pretty bedroom suites with stylish Moroccan-inspired bathrooms, as well as an elegant living room filled with Asian furniture, tapestries and artwork, a dining room and a master bedroom suite that includes a television room, study and classically styled bathroom.
"What surprises people is the amount of space in this house, yet it is always cosy and intimate," says Dolores as she leads us into a kitchen straight off the pages of a décor magazine. I feel for a moment like I really have been transported to a country home in the south of France, for the kitchen has all the charm of rustic Provence. The cabinetry is at once classic and trendy, with a solid wooden table made for cooking, eating and congregating as a family. "From here you can see the processions come by during festivities," says our host from the kitchen's sunny bay window, but I have eyes only for a room that simply leaps off the pages of Côté Sud.
A rooftop penthouse
There are many rooftop penthouses around, but the top floor of this unique home in Tarifa makes the most of its singular setting to embody all the best things about this iconic seaside town and the lifestyle it promises. Independent access means it can either be an integral part of the main house, a studio or indeed a separate penthouse apartment. In keeping with Dolores' knowing decorative touch this is an oasis of good taste and comfort in a way that is at one with its setting and simply breathes Tarifa style.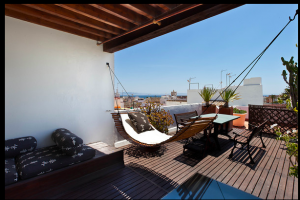 The living area comprises a wonderful rustic chic kitchen and guest bathroom with many stylistic details, a breezy living room and a bedroom with large tiled bathroom inspired by nearby Morocco. All of these rooms open up to an expansive rooftop terrace brimming with possibilities. Partly covered and partly open, it is a choice location in which to suntan, relax, socialise and simply feel inspired by views over the rooftops and famous sights of Tarifa's old town down to the harbour, the Atlantic beaches and the cliffs of Morocco.
This constantly changing aspect provides a perfect backdrop for that most iconically Tarifeño of things – your own chill-out zone, complete with room for a rooftop garden, deck areas, bar and a Jacuzzi. It would be hard to keep friends away! In addition, the rooftop also features a small studio apartment with its own terrace, completing a home that represents the spirit and atmosphere of today's Tarifa within the body of one of its finest classic buildings.
This property is for sale and comes complete with period detailing and furniture: Tony Cassidy