Marbella's message: style over substance?
We all know Marbella's image has been somewhat tarnished since its heyday and its subsequent revival in the late 90's. Corruption, money laundering, never-ending mass construction that turns large parts of the area into Bolivian-style open cast mines, the constant presence of a jungle of construction cranes, fleets of construction vehicles that pound the surface out of the roads, planning debacles and a rise in both prices and crime have had their effect.
We've lived off the land too greedily, gorging ourselves in a short sighted and rapacious feeding frenzy not unlike the Klondike Gold Rush – only more damaging. The fat years precipitate the meagre ones, so to speak. Most distressed, and indeed surprised, are the ones who have become dependent on turning this privileged corner of Europe into an outdoor industrial plant the likes of which can only be viewed in Bulgaria and in other parts of Spain.
A new beginning?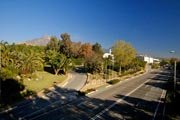 If you read this you might think the future is bleak for Marbella, but thankfully this is not the case. Try as they have to destroy the beauty of this region, the property tycoons and their cohorts in the various town hall administrations have not succeeded in taking away those things that make this region special. The charm of Marbella's old town, the Golden Mile, its sweeping coastline, golf courses, luxury facilities, views out across the Mediterranean and indeed the lovely climate remain largely unharmed.
With the added assurance – as demonstrated through a variety of measures, from Operación Malaya to the steps leading to the installation of the current mayor – that the Regional Government of Andalucía, the Town Hall and even the Spanish state are committed to a new beginning, there is a real hope that the mess can be cleaned up, lessons learned from the past and not repeated (yet) again.
Mayor Angeles Muñoz is bathing in the murky bathwater of her predecessors, saddled with a town whose finances are in dire straits and whose reputation is in dire need of a makeover. In collaboration with the Junta de Andalucía she has unveiled ambitious plans for the future whilst also attempting to address the budgetary and planning mess left by her antecedents. After years in which the trust of people was abused we are naturally sceptical, but this administration deserves the benefit of the doubt. They carry on their shoulders the heavy burden of restoring our trust in the political system, yet it must be remembered that this is a lengthy process of recovery with few quick fix solutions.
The question of image
In the meantime there is a real drive to counter the flood of negative reports on this area with a promotional campaign aimed at restoring confidence in Marbella as a tourist destination and a place to invest. The renowned PR guru and publicist Max Clifford was recently guest of honour at a seminar organised by the British Chamber of Commerce. He mirrored the view of many in the audience that the British press in particular seems to seize upon every opportunity to show Marbella in a bad light.
Although he hinted that a touch of envy might be at the heart of this love-hate relationship, he rightly said much of it is down to us. Firstly, because Marbella has created its own mess, and secondly because it hasn't done enough to repair its tarnished image. Constantly repeating the mantra of 'we have sun, sea and golf courses' is infantile in the extreme, yet it is all that many continue to come up with. We all agree that Marbella is in need of an image overhaul, but what should this consist of exactly?
Style, substance or spin…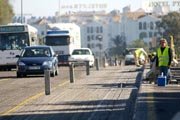 There ensued on the evening a passionate debate as to how Marbella could best counter the waves of negative news with a positive promotional campaign. Mr. Clifford listed a small sample of the means at his disposal, such as linking Marbella once more with leading British and international celebrities, and reviving its faded glamour, but even he, as a consummate PR man, added a footnote that promotion, no matter how stylishly and convincingly presented, cannot be effective in the long run if it is not backed up with substance.
The wool cannot be pulled over his eyes, for the man has owned a property here for many years and knows Marbella's strengths and failings well – from its lovely palm-lined avenues to its trench-like potholes. "Don't forget this is not a cheap destination," he warned."It cannot compete on price, so it must compete on quality. The town should be smart, clean and service levels high. What visitors need is to feel welcomed and looked after by people who can speak their language. What potential homebuyers and investors need is to feel one hundred per cent assured they can buy a property here without fear of the kind of repossessions that made the news in a big way."
"Perhaps the time has come to establish information centres for foreign tourists and property buyers, where they can receive credible, authoritative advice and support. Up to now, however, all we have heard is talk." His plain-talking style caught many by surprise, but Max Clifford says he is too disappointed by the many lost opportunities he has seen to mince his words. Those who were offended simply do not get the point, and in so doing will only contribute to the malaise.
A town that depends on receiving visitors is in no position to be proud and haughty. Promotional campaigns without substance are mere spin, so let's give writers and photographers positive things to report on. While we recognise that the road to recovery is a lengthy one there are highly visible ways in which the image of Marbella can start repairing itself quickly. Jesus Gil understood this all too well when he began a clean-up campaign in the early 90's.
Follow his example (in this instance) and fix the roads, clean up scruffy, neglected areas, add new green areas and cycle paths, enforce proper planning regulations that include sufficient parking facilities, fine construction companies that leave an unsightly mess and make an example of some of the worst offenders. Add a campaign to install a service-friendly attitude in waiters, policemen and shopkeepers and you might be surprised how quickly bad news can become good. The Town Hall's job is tough, but by the same token there is a lot of glory to be had if they get it right. You simply have to create more positive photo opportunities than negative ones. Easily said? Maybe, but it's been done before, so it's hardly rocket science either.