Post by guest blogger Claire Jamison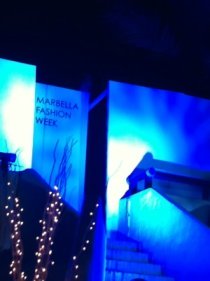 On Friday 24th August, Marbella's first ever Fashion Week was held at the trendy Nikki Beach club. With seven exciting designers, super hot models and a location that screams glam, MFW truly was a fashionista's paradise.
With the sun setting in the distance, this beautiful backdrop for the show helped create the effortlessly cool, trendy atmosphere. Already known as a famously glamorous Marbella venue, Nikki Beach provided a perfect outdoor fashion show location complete with champagne cocktails.
After being seated and rummaging through our goodie bags, which included falsies from Lash Boutique, sweets and leaflets, the actual fashion show started at 9.30pm. The runway show featured a range of local and international designers including Carrie Roslyn, Claireabella, Dorcus Fashion Designs, Gorgeous Boutique, Judas Sinned, Maya Peters and The Only Way is Bikinis (wonder where they got their inspiration!?). The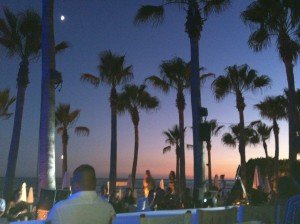 clothing was mostly swimwear – which you probably wouldn't swim in but hey, at least you would look great! In between each showcase, the designers then had a chance to tell us all a bit about their brand with comperes such as Hannah Murray from Talk Radio Europe asking the questions.
There was even half time entertainment from Britain's Got Talent participant Pippa Langhorne (remember the opera singer with the dog?) and the show finished with Zoe Louise Hughes singing a mix of songs to get the crowd excited. For what? Well the after party of course! This took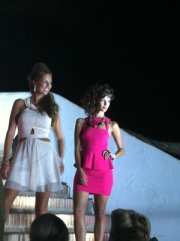 place at the club upstairs at Nikki Beach. With white décor and only the coolest beats being played, not to mention the attendance of a few special names…cough…Amir Kahn, the night didn't disappoint.
For being the very first Marbella Fashion Week, the event was definitely a success. A lot of people were involved in the organisation, including our own colleague Jamie Amor, who helped backstage. Beautiful models, fancy cocktails and great music lead to an overall stylishly on-trend night. Founded by Adam Ryan with the help of sponsors from Miss Penguin PR to Richard Lewis Living, you honestly wouldn't think that this was the first time the MFW had taken place. So if things can only get better, here at Manifesto Design we can only wait and look forward to Marbella Fashion Week 2013!