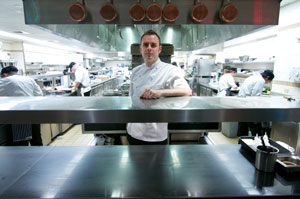 Austrian-born Markus Glocker is a young chef making a name for himself in the increasingly international world of top cuisine. Having trained under and worked with some of the great names in the business this two-Michelin star chef continues a fine Austrian tradition of producing top gastronomic talent. Glocker currently stars as Chef de Cuisine for Gordon Ramsey at The London, New York.

You trained in Austria and now work for a British chef creating modern interpretations of French classics – which culinary tradition would you say has been the greatest influence on you as a chef?
For me, Austrian cuisine is not meant to be the ultimate fine dining experience but combining it with different styles like British/French makes it more interesting. Austrian food is all about culture, roots and region. Most people's idea of Austrian food is that it is rich and heavy, but nowadays it is becoming lighter and more interesting, and people are more willing to experiment and accommodate new flavours. There is a new generation of chefs that have left Austria to experience new techniques and flavours, and who are now coming back to apply what they have learned to Austrian cuisine.
Do Americans respond to the cuisine and the environment differently from Europeans?
I definitely have Austrian accents in my cooking, and it is well received in the American market just as in Europe. New York, though, is a place that keeps you on your toes; you never know what you will get. Within a dining experience that normally takes an hour, one guest will want to have ten courses while another just wants a salad. It's sometimes really challenging to accommodate all these requests, but that's what they expect here. If there are differences, they are not in the taste buds but have more to do with lifestyle and outlook. In Europe, for instance, if people go to a Michelin-starred restaurant, it is not unusual to take three hours to enjoy the meal and relax.

Do you enjoy working and living in New York?
The restaurant scene here is one of the best in the world. I like the lifestyle and the energy of New York, it's infectious; I definitely could see myself staying here for a while.
How would you rate fine dining in Austria in comparison with the other main centres?
It's hard to judge food because it is so intrinsically linked to where you are. Having said that, there is always the right place for the right food. The ambiance, food and service have to be perfectly thought out to make any dining experience memorable. That remains the same everywhere, but you can't escape your location. I'm sure schnitzel in Japan doesn't taste as good as schnitzel in the Alps.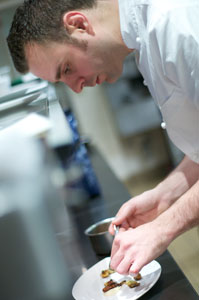 Do you oversee the menus for both MAZE and Restaurant Gordon Ramsay at the London NYC? How different in concept – and execution – are these two restaurants?
Yes, I'm responsible for all the food and beverage outlets at Gordon Ramsay at The London NYC. To offer a real contrast and to have something for every guest, we made MAZE our casual concept where you can enjoy a burger or foie gras in an affordable, relaxed dining experience. On the other hand, Restaurant Gordon Ramsay is our 2-Michelin-starred restaurant in the hotel where we demonstrate classic French cuisine with Asian influences in a very private setting. With the name Gordon Ramsay on the door, it's sometimes challenging to make the impossible possible.

Which is harder – creating new master dishes or maintaining consistency of quality?
I'm definitely a very creative type of person, and it's easy for me to come up with dishes and put flavours together, which for someone else might be the tougher part of the job. These are things a chef can experiment with and do largely himself. To maintain the quality of such a new dish and make it consistent day after day, you need to have your team behind you to support you and ensure it tastes and looks the same even when you're not in the kitchen. That's why it's so important to have the right people in the right place in your kitchen.
Do you see yourself running your own restaurant in a number of years or does your ambition take you in another direction?
Most chefs' dream is to own their own restaurant, and I'm not exempt from that. I'm definitely in a great place right now and feel lucky to be able to work in such a professional and successful restaurant, so I am no rush right now.
What do you think about the new fine dining brands that are effectively becoming international brands? Should we look forward to being a guest of Gordon Ramsay or another celebrity chef in cities across five continents?
I'm speaking for myself when I say this – it's very good for a young chef to grow with a company like Gordon Ramsay, to be there from the beginning and be there when it's growing. Gordon Ramsay restaurants are never just Gordon Ramsay restaurants. They are chefs with different skills placed in different restaurants for a reason. I'm definitely adding a more modern approach to my dishes than we have, for example, at the original Restaurant Gordon Ramsay at Royal Hospital Road, London, where you can still enjoy one of his signature dishes, lobster ravioli. There are chefs who are incredible when they cook for ten people and mostly do everything themselves, but when it comes down to leading and organising a buzzing, busy restaurant and maintaining the same standards, they mostly fail. One thing I love about Gordon is discipline, organisation and consistency – no matter what the style of food. I definitely recommend visiting Gordon Ramsay New York or any other location, and no, it will definitely not be a repetitive experience.
Where is haute cuisine going in terms of new directions and trends?
It's like fashion – trends are always going to be happening, they come, go and come back, but flavours don't. Flavours always have to be there. I think that from here on out chefs and sommeliers will focus more on the main aspects of enjoying a meal, which are food and wine – and not fuss. It's about food, wine and good service. In these times, many things are getting overdone and this can be almost annoying for the guests, so over-effusive service can become an obstacle to the enjoyment of exquisite food. There will always be a niche for extreme fashion and extreme food, but to read people and see their needs and know what they like, that's still an ever-important element straight from the old-fashioned restaurant business.
Of all the cities/countries you have worked in, which would you most readily go back to? Also, is there any place you would still love to work?
Besides with Gordon Ramsay, the best time in my cooking career I spent in Charlie Trotter's kitchen in Chicago. The energy level and professionalism they taught me there are still driving me every day in my own kitchen. If I could, I would love to spend time at Pierre Gagnaire's kitchen in Paris.
Do you have any major passions or interests outside gastronomy?
Since I was brought up in a musically oriented family, I had the chance to be able to train on piano and trumpet for over 12 years. I still try to play on a daily basis if possible. It's a great balance to the job – and I guess it's very Austrian too.
We had to ask – what is it like working with Gordon Ramsay? Is he really as hotheaded as he seems?
He definitely is a tough cookie in the kitchen, straight in your face, no bullshit. He is a very fair and loyal person, but when it comes down to cooking he becomes what you see on TV. It's like any other job, if you do your job, you don't have any problems
Photography: Matt Simpkins
Markus Glocker was interviewed for Tout magazine