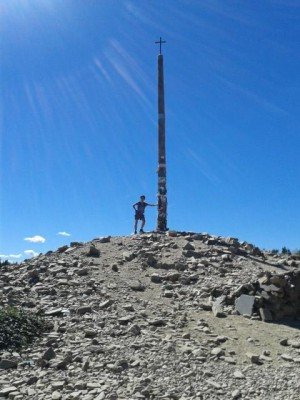 By guest blogger Ash Bolton
I arrived in the small Spanish village of Roncesvalles in the north east of Spain late on a rather depressing looking Saturday evening in September, just as the skies turned dark with rain and released a torrential downpour.
Sprinting off the bus with a heavy backpack weighing me down, I ran to the municipal albergue (subsidised shelters along the Pilgrimage route) but got soaked to the bone within a minute and was already questioning whether this adventure was such a good idea. The plan had been to catch a taxi over the Pyrenees and into France, to reach the traditional starting point of the Camino Francés, Saint-Jean-Pied-de-Port, but a quick look for said taxi proved fruitless, so I took this as a welcome sign that fate was telling me to start here.
For those of you who have never heard of it before, the Camino de Santiago is an ancient pilgrimage route across the north of Spain, with the goal being to reach Santiago de Compostela, around 700 kilometres to the west. It typically takes around five weeks to walk, depending on your speed, or more importantly, your mode of transport. During the Camino the majority of people walk, but I also saw four people accompanied by donkeys, dozens of cyclists and a few pilgrims getting the bus between towns! I on the other hand, had two weeks holiday, so chose to walk for two days between Roncesvalles and Pamplona before hiring a bike to complete the rest of the journey.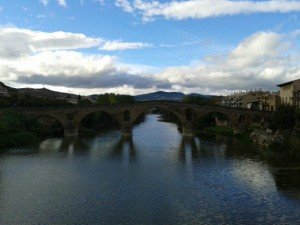 The first couple of days on foot took me from Roncesvalles to Zubiri and on to Pamplona, home to the world famous San Fermin Festival, or the running of the bulls. From here I spent the next ten days cycling to Santiago de Compostela via: Puente la Reina (pretty, beautiful bridge), Estella (Medieval looking), Irache (free wine fountain!), Nájera (got hopelessly lost here), Burgos (my favourite city), Frómista (nice church, little else), Sahagún (a bit of a yawn fest), León (magnificent), Molinaseca (took nine hours and 101 kilometres, but the prettiest village I saw after Puente la Reina), Sarria (I didn't care much for this place), Palas de Rei (nor this place) and finally Santiago de Compostela (stunning).
A typical day involved getting up at 6.30am, or should I say woken up by the early risers at 5.30am, breakfasting on hot chocolate and croissant, and then setting off at 8am with a lunch stop around 12pm. Sometimes there would be another stop for 'elevensies' or second breakfast, and in the afternoons I cycled anything between 20 and 110 kilometres and stopped where I fancied, depending on how tired I felt or how pretty the next village or town was.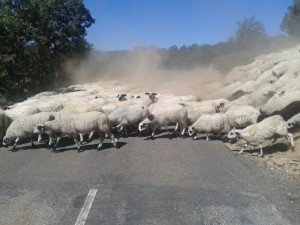 Thankfully I only got well and truly lost once, on the outskirts of Nájera, thanks to a rogue arrow pointing in the wrong direction. But in general I didn't need to consult the map I had brought with me as there were yellow arrows pinned to trees, painted on the roads and in every conceivable place, just when you thought you might be getting lost. Highlights of the trip involved cycling to the highest point of the Camino on the way to Molinaseca, where after not having seen a soul for three hours on a lonely mountain road and a fair bit of talking to myself, I was stopped in my tracks as more than 100 sheep crossed in front of me. My joke to the farmer that the country roads are always gridlocked just like the cities, fell on deaf ears unfortunately.
Another incident involved being bitten by an unidentified creature at 4am in the morning in an old converted monastery at Molinaseca. My hand had been dangling over the edge of the bed on the bottom bunk when something sank its sharp teeth into the tip of my middle finger, no doubt having smelt the tapas I was eating earlier. I instantly leapt out of bed, blood dripping everywhere, but couldn't do anything as it was pitch black and everyone was sleeping. After a quick scan of the floor with the light from my mobile phone, I crept cautiously back into bed and pulled the sleeping bag back over my head lest the rodent, or whatever it was, returned having got a taste for human blood.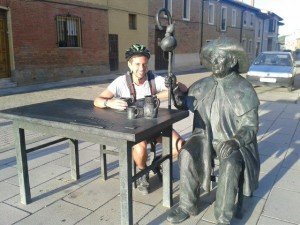 Most days were the same, I arrived at a beautiful town or city, decamped all my worldly possessions on my bed to show habitation in case someone else stole it, showered, washed clothes, and with what little energy I had left, then went out exploring and in search of a meal and more importantly, alcohol, to get rid of the pain in my leg muscles.Along the Camino I took advantage of the Pilgrim's Meals, which were generally between 7.50 and 10 Euros, and included three courses and wine. In one or two places, this included a bottle of wine as opposed to a glass, which was devoured mercilessly by myself whenever the opportunity presented itself (no vino, no Camino was my mantra).
There were a couple of days when I cycled more than 100 kilometres and spent several hours climbing ridiculously steep mountains, only to find another steep mountain at the top. It's fair to say the air was turned blue on more than one occasion when this happened.
I also managed to sustain a broken bicycle chain 30 kilometres outside of Burgos, meaning I had to get the bus into the city with my bike. But apart from a couple of punctures I was relatively problem free. I was also ridiculously lucky with the weather as the only rain I saw was on the day I arrived and the following morning for a couple of hours. The rest of the time I had to splash the sun cream on, as temperatures were hitting at least 30ºC most days and despite the cream I was still getting sunburnt.

So on a whole the Camino was a lot of fun as I got to speak to plenty of people from all over the world, with the Irish and Australians making up a large percentage of the pilgrims. Strangely though I only managed to find one other English person during the whole trip, from Southampton funnily enough, where I used to live. I'm in no way religious so for me it was more of an adventure and an ideal way to visit parts of Spain off the beaten track that you otherwise would never venture to. It was also an excellent opportunity to eat and drink your way across the country, I must add.
In terms of culture, I saw the Castillo de los Templarios, aka the Castle of the Knights Templar in Ponferrada, which dated from the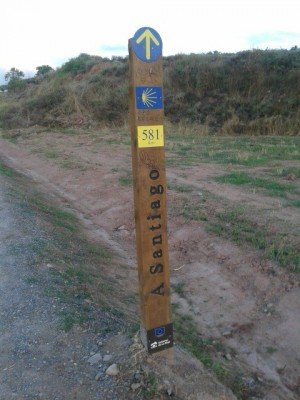 12th century, the striking cathedrals of Leon and Burgos, La Cruz de Ferro (a large iron cross where people deposit stones from their country to metaphorically offload their sins) and an abandoned village in the mountains above Molinaseca. There were also countless churches, hippy retreats, fairytale castles, a fountain where you can help yourself to free wine and quaint villages with some absolutely stunning landscapes to boot along the way.
The only problem was that a lot of the time after arriving in a city such as Burgos, which has so much to offer, once you unpacked, showered and washed your clothes, there really wasn't enough time to properly explore the city, and I left the next morning feeling that I hadn't seen enough. However, the places that I would like to revisit, or spend more time in, were Puente La Reina for its medieval charm, Pamplona for its myriad of tapas bars and charming old town, Burgos as it was just beautiful, Leon again for its unique old town and Molinaseca to avenge my bitten finger (it was also a very quaint and picturesque village).
Of course, arriving in Santiago after 13 days of travelling brought a tear to my eyes (must have been some pesky fly), and it was a relief to finally put my feet up and not have to worry about getting up the following day. Having studied here during my university days on an Erasmus exchange years ago, I was no stranger to the city, but it still takes your breath away when you arrive in the Plaza del Obradoiro and see the spectacular view of the cathedral.
Maybe I am biased, but for me Santiago itself is one of the prettiest cities on the route, if not the best. I base this view on its historic old town, the cobbled streets and multitude of bars and restaurants. At night if you squint hard enough, you would get a glimpse of how this city looked 500-600 years ago, as the buildings are so old and grandiose looking.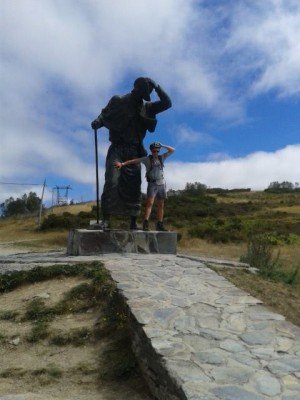 Would I do it again? Yes without a doubt. I'm already planning another cycling trip for next year, this time with a couple of cycle keen friends. Although it seems an obvious thing to say, it is a long, tiring and difficult route, and a lot tougher than I thought it was going to be. For anyone thinking of doing the Camino I would recommend walking it if you have the time, especially on your own, as you will be surprised how easy it is to make friends and how open and helpful people are. Cycling is of course quicker, but you don't spend as much time speaking to people, and you meet different groups every night as you are covering greater distances, so it is harder to mingle in that respect.
One word of advice though, when after finishing the Camino they ask you why you did it, always say religious reasons even if you did if for an adventure, as you get a much nicer finishing certificate.