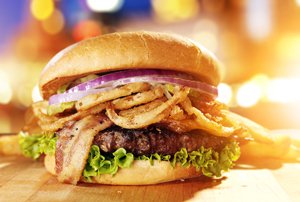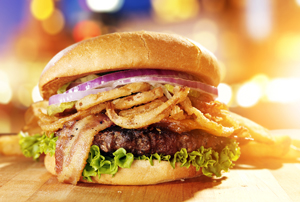 So there I was, quietly enjoying a drink at Bar El Casar in the little village of Benahavís where I live, when I got talking to the bar's proprietor Chuck and fellow local resident Daren. Word had got out to them that I write restaurant reviews for Essential Marbella Magazine, so when they started comparing notes on what the perfect hamburger should look and taste like it ended in a hamburger cook-off challenge – with yours truly as the judge.
I tried to tell them that surely there must be better qualified experts around than myself, but they wouldn't have it, so there and then the date was set for the great Benahavís hamburger showdown. Sunday 21st October we duly showed up, eyeing the officially adorned judge's table not without a little trepidation. Already, a small crowd was gathering and I was feeling the pressure. Many eyes would be on me as I sampled and analysed the culinary works that represented much hard work, passion and professional pride, for Chuck and Daren both took it very seriously.
Fortunately I spotted Maxine, a local resident and former restaurant owner, and immediately seconded her as fellow judge. Together we came to the conclusion that both men had produced an outstanding hamburger and that Chuck's barbecue sauce and especially his coleslaw were a real find, while Daren's mayonnaise with a touch of horseradish sauce was very clever too. Though it was a tough choice, in the end we picked Daren's gourmet burger as the winner just ahead of Chuck's Classic American, but we'd have been happy to finish either of them.
Instead we left some for the others to sample and enjoyed the sense of community spirit this fun competition has produced. Indeed, the success of the challenge has inspired a bi-weekly cook-off between different members of the community, and I believe chilli is next on the menu, so if you're a 'specialist in the field' head on down to Bar El Casar for some great culinary fun.