Draped along the undulating folds of the foothills a mountain range, the luxurious private estate of La Zagaleta looks down across sloping valleys to Marbella, the Mediterranean and the rocky outlines of Gibraltar and Morocco.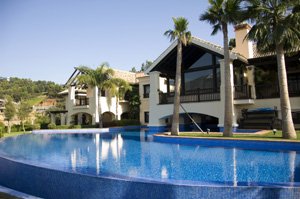 Situated just ten kilometres from Marbella's centre, La Zagaleta's elevation endows it with spectacular views over golf courses, pine-clad slopes and the entire sweep of coastline between Marbella and Gibraltar. The urbanisation lies on a gently winding road that works its way up from the coast and past a series of luxurious residential areas before reaching the gated entrance to this most private of estates.
From here the road continues to rise into the mountains of the Serrania de Ronda range, towards the lovely mountain town of Ronda. Backing on to the lower reaches of this protected area, the 900 hectare estate forms a millionaire's row of grand villas on large private grounds surrounded by the greenery of two 18-hole golf courses, two driving ranges and untamed natural countryside that includes pastures, wooded areas, lakes and brooks.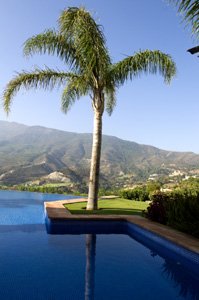 The otters, badgers and other small wildlife of the area find a protected haven here, where residents are free to fish, hike or ride. Privacy and security are important factors at La Zagaleta, one of the reasons why it is the preferred residence of international celebrities and businesspeople. The main reason, however, is the fact that it is one of the most select urbanisations in Europe, a spacious private domain where all facilities are exclusive to residents and their guests.
Such facilities include the horse-riding centre and a stylish golf club with restaurant, bar, lounges, library, billiards room, tennis and paddle club, sauna, swimming pool and function areas. In an area where properties range from several million upwards to include some of the most stunning homes on the continent, you can expect everything to be immaculate, with personalised concierge services thrown in – just the lifestyle for the rich and famous.