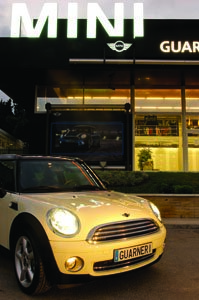 So you may be more accustomed to seeing car reports on Ferraris, Lambos, Bentleys, Rollers and 300k Mercedes, but if articles like this are to do more than allow us to salivate over cars that only a privileged few can really afford then maybe it's worthwhile to discover that there is a lot of driving fun to had in the affordable price bracket too.

Which is why I decided to focus on the imminent launch of the Mini Clubman, expected to hit showrooms across Europe and America early next year. It seemed appropriate, too, as this pint-sized estate seems just the accessory to take shopping—it looks better on you than a designer handbag and it fits a hell of a lot more goodies too.
But seriously, the Mini Clubman builds on the immense success of the New Mini, as designed by American Frank Stephenson – whose mother was born in Málaga. Incidentally, the very same man who has created the new Fiat 500, also expected to hit showrooms early in 2008. As these two projects bear out, Stephenson is a designer of great ability; a master of retro design, a genre notorious as a minefield. Where so many have failed and created an ill-fated pastiche of nostalgia, Stephenson produced a modern classic with his New Mini, and he seems set to repeat this feat with the new Fiat.
Creating a new classic out of an old one
Just as the New Mini has proved to be a classic in its own right, an ode to the original whilst also offering something thoroughly fresh and new, so the new Mini Clubman builds on a tradition that goes back to the early 1960's. Generations of people bumped about in this quirky little vehicle, stashing their shopping in the back as they raced around in kart-like conditions. Never the most practical or comfortable car, the Mini Clubman became an enduring classic in that most eccentrically British way.
Though the model is keen to revive that sense of fun and tradition, it is not looking to replicate the innate quirkiness of the original car. Today's buyers may be susceptible to a touch of nostalgia but they demand comfort, practicality and lots of extras – and one of the cornerstones of the New Mini's success has been its ability to offer all of these things in abundance. The original series of minis has forever earned its place in motoring history, but to my mind the current series is much more attractive – a design classic, in fact.
So funky
Okay, I admit it; I like retro cars. But they must be 'good' retro designs, for there's a fine line between a peach and a lemon, if you know what I mean. When designed properly, a retro model like the New Mini, the Ford Thunderbird or the Fiat 500 becomes a classic in its own right, fully up-to-date and relevant whilst also celebrating the style and fun of an earlier era. Let's face it, nothing is ever completely new, so even the 'latest' trends in design always borrow from earlier times. Given the choice then, I much prefer the beautifully rounded lines inspired by the 50's and 60's than the jagged, boxy architecture that seems derived from a mix of 80's Subarus and Playstation games – and which almost murdered the BMW 3-series.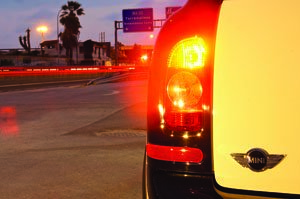 Back to the Mini Clubman. It has, to my mind, successfully adapted the funky, quirky 'Cool Britannia' look of the current series of minis to the requirements of the mini estate configuration. Although developed after the departure of Frank Stephenson, the latest offering is perhaps the funkiest of all, offering oodles of design details, whacky interior features, classic double estate doors and the kind of quality finish that comes courtesy of its association with BMW. Not everyone is as enamoured with it, though. Car Magazine recently called it 'downright odd,' adding that it looks like '…the fruit of some excitable first-year post grad at the Royal College of Art'. But if that's so, why was I aching to get into it and tear about town with a vengeance?
The ride
But this proved somewhat of a problem. You see, at the time of writing (and testing) the car had not yet been homologated, which means it hadn't been registered with the Spanish Ministry of Industry yet and was therefore still regarded as a prototype – and not officially allowed on the roads. So we zapped around the tight roads that immediately surround the Guarnieri dealership complex and actually got quite a good impression of nippy city driving in the process. Perhaps this is more representative of the kind of driving most people will do with in car than if had we been racing round country roads.
The Mini Clubman certainly is a fantastic city car; quick, reactive and it can turn on a penny. The steering and acceleration are excellent, and there's even a sporty setting that brings the old kart-like drive back. What's more, the interior is full of wonderful things to look at, you can change the interior lights to suit your mood and we just kept opening and closing all the doors for the sheer fun of it. On that note, the unusual single third door (on the right) is a bit odd but not unpractical. Not able to resist any longer, we surreptitiously made our way across to a nearby car park and zapped to our heart's content until stopped by an overzealous security guard. Too bad this road test was cut short or I may still have been driving. This is one car you don't mind getting stuck in a traffic jam with.
Design     ****
Engineering    ***
Performance    ***
Comfort    ***
Price/Quality    ***
Details:
Mini Clubman Cooper S
Strong points: Fun, quirky styling combined with practical little estate; a great city car
Weak points: Price, unusual third door
Article written in Jan 2007 for Caché+ magazine
Photography David Toms