Built for individualists with a penchant for style and elegance, Wiesmann cars are as exclusive as they look – a modern sports car beneath classic retro charm.
On the outskirts of the German town of Dülmen stands a modern building whose stunning architecture offers a hint at what is inside. No, this is not a state-of-the-art museum, a science faculty or a futuristic conference centre but actually a factory where cars are made.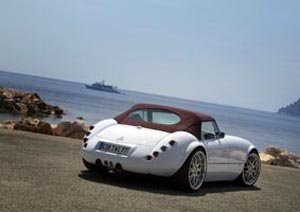 If the image doesn't fit the description that is because this establishment is far removed from the conventional industrial plants where thousands of cars roll off the assembly line. Indeed, Wiesmann cars are made according to an entirely different philosophy – handcrafted in this pristine workshop where production, management and dealership merge into one functional and aesthetic whole.
Wiesmann are masters at blending form and function to create cars that combine rare visual refinement with the latest standards in technology and engineering. As a result models like the gorgeous MF3 Roadster feature classic British good looks and German tooling with a dash of Italian spice. Unlike other makes, which are more overtly retro, the MF3 is at once nostalgic and contemporary, never feeling like a vintage car brought back to life.
This is mirrored in the fact that under its stylish exterior beats a thoroughly up to date heart, constructed out of BMW engines and drive components from leading German manufacturers. Added to an already legendary German reputation for quality engineering comes the fact that Wiesmann cars are built by true enthusiasts – a family firm founded by two brothers and made up of around one hundred enthusiastic engineers, designers and technicians.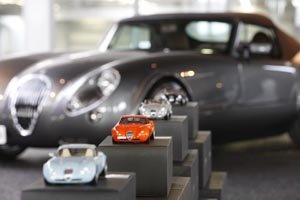 Made to order
The story of the Wiesmann reads like a modern version of those that produced legendary names such as Bugatti, Ferrari and Jaguar. Founded in 1988 by brothers Friedhelm and Martin Wiesmann, the company has become the vehicle through which they give form to their distinct vision of the ideal sports car. Where others go for maximum power and speed in racing machines that are barely at home in normal traffic, the Wiesmann brothers have created cars whose power and speed are in perfect harmony with their elegance and comfort.
The 3.2 litre, V6 BMW engine used in the MF3 Roadster produces 343 horsepower and a top speed of over 250km per hour. Combined with the car's racy stance and excellent road holding this makes for quite a wolf in sheep's clothes, though above all this is a highly capable sports car that exudes class and distinction. In other words, a car made for the sheer pleasure of driving – a fact reflected in the many tours and events organised by the company, for to own a Wiesmann is to relive the halcyon days of motoring, and the lifestyle that goes with it.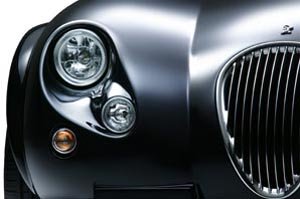 Thus, modern technology, comfort and reliability are married to good values from the past but now sadly lost to most. You will, for example, be able to personalise your Wiesmann to your own preferences and specifications, using colour swatches provided for the glass-fibre reinforced composite bodywork, the leather seats and dashboard, and the hood, which, though made of classic-looking fabric is conveniently mechanical. No need to take the retro things too far, we say. What you get in the end is not just a motoring jewel but a refined statement of taste and design that looks good on any driveway and makes even the prettiest towns look better. If you want, there are even matching accessories to make your purchase even more indulgent.
In this age of mass-production, buyouts and computer-designed cars built to the cost-cutting principles of economies of scale, the Wiesmann stands out for its handmade quality, unique personality and above all, integrity.