The jeep has come a long way from the simple utility vehicle it once was. The original army jeep, and the early commercial models that followed it, may have been crude and devoid of any comfort, but it was meant to be a workhorse that could go anywhere, not a luxury car. This very clear division of labour was shattered in 1970 with the introduction of the Range Rover. Every bit as revolutionary as the original American Jeep, it was the first to combine luxury and true off-road capability.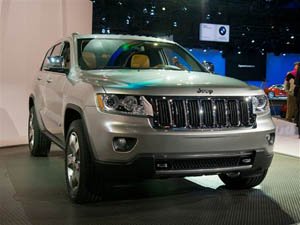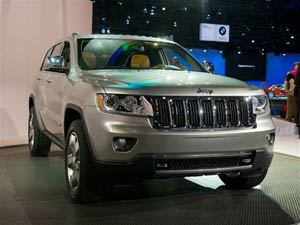 For years, the Range Rover stood alone as the 'Rolls Royce of four-wheel drives', while the likes of Toyota, Fiat and even Mercedes continued to build conventional, truck-like jeeps. That is, until the early 90s, when a more pampered clientele made the switch and turned the humble jeep into a must-have status symbol. Manufacturers quickly responded to the executives and housewives who had embraced all-wheel drive, and started producing off-roads that were comfortable, opulent and above all, easy to drive.
A vast and sometimes unintelligible range of models, sizes and variations followed, all contributing to a meteoric rise in market share for off-road vehicles. Originally, men bought big, heavy jeeps while women stuck to cute little variations such as the popular Suzuki Vitara, but gradually women too have become obsessed with size and sheer macho appeal—and so the infamous 'School Run' was born. Claiming that driving these busses makes them feel safer, they are now the main protagonists of the chrome tank.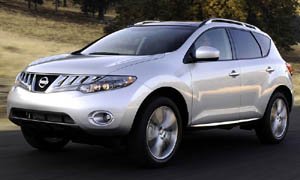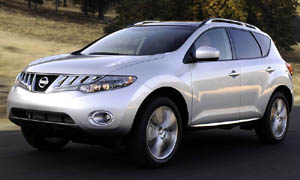 Given the above, it would seem that the jeep revolution is just a passing fad, but after more than a decade these large, fuel-guzzling vehicles show no signs of diminished popularity. True, their generally amazing off-road capabilities will never be tested by most who drive them, but their space, safety, comfort and status are traits that have ensured them a loyal following. Add increasingly good on-road behaviour and you've got the reasons for the segment's continued success.
Jeep Grand Cherokee vs Nissan Murano
We have purposely not chosen to focus on the well-known models from the Land Rover, BMW, Mercedes and VW-Group stables, but have instead opted for the kind of mid-range models that are reasonably affordable yet attractive. The first candidate, Chrysler's Jeep Grand Cherokee, is a successor to one of the most successful luxury four-wheel drives of recent times, while the Nissan Murano by contrast is a newer kind of jeep—round, sporty and young in its appeal.
Both cars fall within the €40.000 – €50.000 range, placing them just below the Mercedes, BMW, Volkswagen and Range Rover, which makes them an attractively priced way of looking good in the 4WD stakes. Why would a businessperson want a jeep? Unless he or she frequents farms or sells rustic plots of land there is actually no good reason, but to many who drive long distances or frequently have passengers in the car, such a vehicle is a good compromise between executive status and practicality. And given the state of the roads along the coastal areas of Spain, four-wheel drives are increasingly useful on the road too.
Looks
The latest Jeep Grand Cherokee is a large, bulky and executive looking car very much in the mould of the Range Rover. Building on the success of its predecessor, the new model has been restyled rather than redesigned. Given the popularity of the model it replaces, this is not a bad thing, and the new version offers lots of extras. It's design is unlikely to set too many hearts a flutter in Europe, but it is a clean and distinguished look that gives the car a distinctly Range Rover-like air of refinement.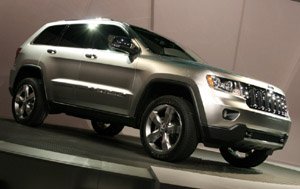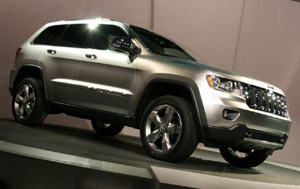 In total contrast to the conservatism of the American Jeep, Nissan have produced a very modern looking car that will appeal to a young audience. Although producing a look that is certainly young and trendy, Nissan can be commended for resisting the 'Chav' styling that makes so many Japanese and Korean cars look like plastic incarnations of Playstation games. Maybe this is because the Murano was designed in California, so in a way we're comparing two American cars. The bodywork is stylishly curved, not jaggedly angular, allowing the headlights and Tonka-style grille to look good rather than unsightly.
In terms of design these are two very different cars that happen to inhabit the same price class. The Jeep Grand Cherokee clearly has a more established, executive appeal, while the Murano is very much up-and-coming young. The real question is: which one will win out in the lucrative 'School Run' stakes?
Interior
In spite of their huge bulk, interior space has never been a strong feature of the Jeep Cherokees. No friend of ergonomics, they have long combined traditional American comfort and high specs with a surprising lack of space and practicality—and still do. While the new model is much improved in many ways, still offering comfort and lots of extras along with better finishing, both interior and luggage space are sadly lacking for a vehicle of this size. When a vehicle is this big, it's all relative, but you'd be within your rights to expect the inside volume to resemble that of a small cathedral.
While the overall interior design and finish of the Jeep speaks of solidity and comfort wrapped up in attractive styling, that of the Nissan once again attempts to remain true to its young credentials: quirky and challenging. Design details such as the instrument panel and the central console are clearly intended to be fresh and engaging, yet this doesn't come at the expense of quality and finish. Comfort levels are good, ergonomics borne in mind and extras galore, while Nissan could teach Jeep a thing or two about space.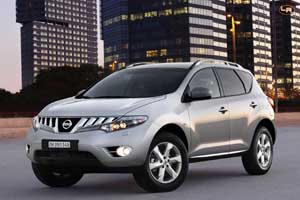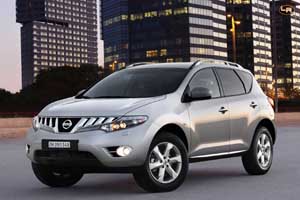 The drive
You may be inclined to think of the Jeep Grand Cherokee as a petrol-guzzling tank, but don't forget that this model still sports the excellent 3.0 litre, V6 Mercedes CRD diesel courtesy of the erstwhile Chrysler-Mercedes connection. Smooth, powerful and efficient, it takes some beating, and although the Murano's 3.5 litre, V6 is also beautifully smooth, refined and powerful, it's the Mercedes that wins on points. However, since the Murano is somewhat smaller and lighter, it's also livelier on the road—and especially around bends, where the Jeep is much improved but still has the feel of a minibus. Of course, it is hard for a heavy vehicle to feel lithe and exciting, but then the Grand Jeep Cherokee is above all a comfortable cruiser, while the Nissan—with its seamless automatic transmission—is a joy both in town and on the road.
If the Murano is a clear winner on the asphalt—especially if there are bends around—then the Grand Jeep Cherokee is the master off the road. Not that a lot of people will put it to the test, but where the Cherokee does its name proud and can give the Range Rover and BMW X5 a run for their money on fields, deserts and rough mountain tracks, the Murano is more of a city slicker. Then again, as a cross-over model it doesn't have the ground clearance to compete with the heavy-duty off roads.
Summary
Although they are both technically jeeps and fall within the same price class, these are essentially two very different cars that will appeal to different sets of people. For roughly the same amount of money you can have a stately, comfortable and safe executive 4WD vehicle that has its faults but is at least a real jeep, with real off-road capability, or you can opt for a trendy number that looks and feels fresh and is definitely a winner—as long as it stays on asphalt.
Which one tickles your fancy will ultimately say more about you than the car, as these two models represent a clear parting of the ways in the large jeep segment. To know if the futuristic Murano is the jeep of the future time can only tell, but to become a commercial success it will have to become as popular with the ladies as the Jeep Grand Cherokee already is.