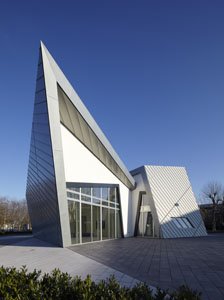 With an ultramodern project designed by American architect Daniel Libeskind, the man charged with designing the new World Trade Centre site in New York, Marbella has attracted a project of true architectural significance.
One of the leading architects of our time, Daniel Libeskind has also added to an already impressive list of great American designers. A sought-after guest lecturer at universities around the world, his work is inspired by the possibilities of a new era in which technology, media and novel materials are pushing the definitions of conventional living spaces towards new boundaries.
Noted for his impressive public and commercial projects, Libeskind also brings the expressive freedom of these genres into the design of private homes, as in the case of the Libeskind Villas in Marbella. Offering the kind of quality, comfort and luxurious living environment expected from a modern villa these homes reject rectangular spaces, conventional materials and construction techniques in favour of the angularity of a new age.
Libeskind plays with shape, space and light through irregular designs that make the villas look like a 'crystal growing from rock'. The implication is that glass is a prominent feature, bringing light and outdoor greenery in to the home whilst also providing the basis of a structure that makes the most of natural light, heat and insulation to provide a more energy-efficient and sustainable alternative to conventional bricks and mortar.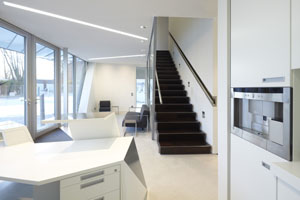 In fact, much of these high-tech villas is pre-constructed in Germany and finished in situ, allowing for finishing touches that are adaptive to the environment, yet the villa in itself is a study in modern architecture that stands out amongst its neighbours. Interior features and electronics systems are of the latest kind, but the architect has chosen to work with sustainable materials that have a favourable interaction with nature.
Though its ultramodern façade belies it, the Libeskind villa is largely constructed from an insulation-efficient wooden core, added to by equally energy-absorbent glass and decked with zinc cladding that does not detract from the solar and rainwater harvesting system that makes each individual unit a private little renewable energy plant. Combined with state-of-the-art design it is the kind of property that firmly marks a place on the map.