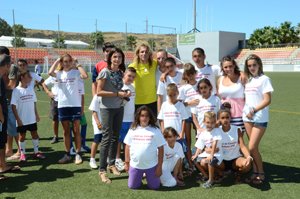 Argentinean football great, Claudio Caniggia, has lent more than just his name to an initiative to bring the fun, exercise and discipline of football to a broad cross-section of the Costa del Sol's youth. His Master Class football clinics, organised together with promotions specialist Rami Morante, are a non-profit initiative aimed at broadening the scope and involving youngsters who may otherwise not be able to attend football coaching schools of this kind.
By offering their services for free and working closely with the Estepona Town Hall, who provide the fine facilities of the Estadio Municipal Francisco Muñoz Pérez, Claudio and his team are able to charge just 20 euros per child, and the result is that his heavily subscribed Master Classes are attended by a delightful mix of children from a wide variety of nationalities and socio-economic backgrounds. In giving of their time and passion so generously, Claudio Caniggia, Rami Morante and the others are spearheading a social collaboration with the broader community that they would like to see evolve into an ongoing project with a more profound impact.
Dubbed the 'new Maradona', Caniggia was, along with Gabriel Batistuta, the great Argentinean star in the period after Diego Maradona. Moulded as a player at the famous academy of River Plate, he subsequently played for Verona, Atalanta and AS Roma in Italy before lighting up the Portuguese and Scottish leagues at Benfica, Dundee and Rangers respectively. Caniggia represented Argentina 50 times, scoring a total of 16 goals for his country – and earning himself a place among the greats of South American football.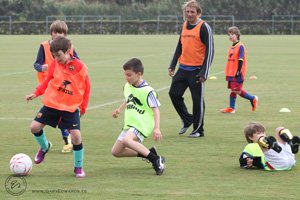 What are the Master Classes about?
First of all, this isn't a commercial enterprise but a social initiative. If we can cover our costs through the participation of community-minded sponsors that is great, but we ourselves give of our time and efforts without remuneration. The essence of the Master Classes is to bring kids from a wide range of backgrounds together to learn about football. In other words, we want to give children the chance to learn a skill, discover talents and abilities, and have fun while they're doing it – regardless of their background.
How are the coaching sessions structured?
We work on things such as ball skills, movement, placing, running on the ball, shooting technique, and for the slightly older ones playing in an assigned position and developing a sense of where the space lies and the opportunities, and how to exploit them. Doing this you can see what young players are good at and what they need to work on, but to really go beyond basic skills training and get a better understanding of how to develop them into real footballers requires more than a single coaching session, which is why we would like to see this grow into a longer-term project.
Why have you taken up the challenge to coach kids on the Costa del Sol?
We hear about how children these days are not exercising enough, don't have enough purpose and discipline in their lives, and I think it is well acknowledged that sport can play a very positive role in promoting all of the above. What's more, it's fun, it develops self-esteem but also camaraderie and team work, so rather than offer only expensive football clinics that are restricted to children from wealthier backgrounds we believe the scope should be broadened. We're working together with the various authorities to make this an ongoing project, and yes, if we succeed there could even be some new talents for the local clubs to scout. Now that would be a very healthy state of affairs.
Bottom photo: www.garyedwards.es