The footballing world knows Alexander Mostovoi as a skilful attacking midfielder who graced the game for almost two decades, but to Spanish fans he will always be known as 'El Zar' – The Czar.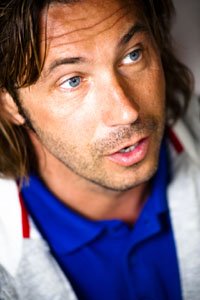 We met with Aleksandr at a stylish café in Marbella, where he spends part of the year. Now leading a casual family life he enjoys the fruits of his many years at the top of the game, but admits that he would one day like to be actively involved in football again. Relaxed and thoroughly down to earth as he is, Aleksandr still feels a great passion for the sport that took him out of the Soviet Union as a youngster and made him a star. It was a journey that would lead him through Portugal and France to Spain, where he would make his mark and join the European footballing elite.
"I was a member of the first new generation to leave young and play football abroad – or the last generation to have played for the Soviet Union, it depends on your point of view." Up to the late 80s players could not move to other leagues easily, as was the case with stars like Protasov and Dasaev, but the relaxing of the regulations saw Aleksandr arrive in Lisbon aged 23. Portuguese side Benfica recognised his talent by signing him as their new young star, but the Lisbon giants had underestimated the culture shock Aleksandr was to experience.
"I took to the Mediterranean way of life easily enough," explains Mostovoi, "but it is hard to be suddenly so free and alone when I had grown up close to my family and within the tight control of the Soviet system. All of a sudden we were young stars with money, and no one to tell us what – and what not – to do. Not everyone coped with it equally well, and around me I saw young players waste their careers and in some cases their lives." Aleksandr, now playing in France, came back to play in the benefit match for Serhiy Scherbakov, the Sporting Lisbon player who was left paralysed after he drove through a red light late at night. As coincidence would have it, I formed part of the 25,000 strong crowd that gathered in support of Scherbakov that winter's night in 1993.
From Player of the Century to Czar
A year at Caen was followed by a successful spell at Racing Strasbourg, where Mostovoi was to be voted 'Player of the Century' by fans – an indication of the mark he made at the French club. France was also where he met his wife, before being transferred to Celta de Vigo, in the northwestern corner of Spain. "When I arrived Celta was still a bit of a provincial club," says Aleksandr. "The first year was tough and although ambitious, Celta wasn't yet fully prepared for its assault on the Spanish league table. But things improved, especially with the arrival of coach Javier Irureta. He brought a sense of purpose and professionalism with him that would transform Celta into an ever-improving side."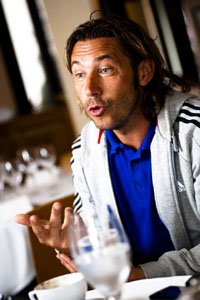 With new signings like Makelele, Michel Salgado, Mazinho, Revivo and Karpin, the club climbed to the top of the ladder and made its mark on the European scene too, qualifying for the Champions League and beating the likes of Ajax, Aston Villa and Liverpool on the way. "I remember playing directly opposite a young Steven Gerrard, and was even on the point of signing for Liverpool at one stage, but Spanish football was at its peak and Celta were doing well, so I decided to stay put." Together with Valeriy Karpin he formed the dynamo of the team, earning a place in the hearts of passionate Spanish football fans that were to crown him 'The Czar'.
A changing game
As one of the few players ever to have represented three different national teams – the Soviet Union, the Commonwealth of Independent States and Russia – Aleksandr Mostovoi represents a historic chapter in the nation's sporting history. "When I grew up we didn't think about money, just football. I grabbed the opportunity to play in other leagues, but never thought purely in terms of money, nor about such things as the lifestyle of the city, the state of the stadium or the size of the club's entourage. Football was my work, my career, and I signed where I had the opportunity to play good football. Today, youngsters have agents before they have contracts, and money, lifestyle and career development are foremost in their minds."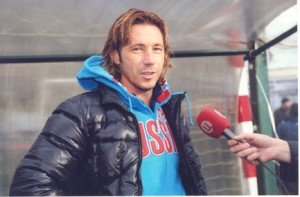 "The game is changing fast, and not always for the better, but I have to admit that if I had to do it again I would have liked to have had a spell in England, not just for the money and the standard of play, but also for the classic football atmosphere." That said, he has a love affair with his adopted 'second home'. "The climate, lifestyle and culture of Spain are all highly seductive and our lifestyle in Marbella stands in complete contrast with that of colder countries." Admitting that he is not yet ready for golf, he prefers active sports such as tennis and paddle, and skis in the Sierra Nevada range two hours from Marbella.
"For the rest I enjoy a peaceful life with my family, but one day I would like to return to football, perhaps in a coaching capacity. The problem is that I never played in the Russian league, so I have no sponsor and few of the contacts needed to open doors. Luckily the league is becoming more and more professional and open, so you never know; maybe Mostovoi the player will still become Mostovoi the coach. It would be a great way to complete a career in football."