Like a landed estate of aristocratic bearing, the Dehesa Montenmedio extends over 500 hectares of coastal forest on Spain's southern Atlantic coast.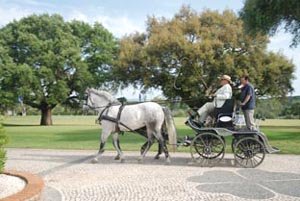 The stretch of coastal road that follows the gentle curves of the Atlantic coast from the surfer's paradise of Tarifa to the pretty white village of Vejer de la Frontera passes through some of the finest scenery in Spain. Just before Vejer, that little jewel with the heart of a mountain village yet just two kilometres removed from the sea, you will see a discreet sign to Dehesa Montenmedio.
Beyond that there is no hint of what is to follow, for this estate lies ensconced within the verdant embrace of umbrella pine, cork oaks, wild olive trees and centenary pine. Within this parkland with its protected natural status you will also find an 18-hole golf course flanked by growths of pine and by lakes that are much more than mere water features.
Here they form a very real part of an ecosystem that houses an impressive variety of birds and wild animals. Driving through the estate you will come across wild geese, pheasants, partridges and deer, the latter reintroduced to these parts by Don Antonio Blázquez Marín, founder of Dehesa Montenmedio. Tireless in his drive and enthusiasm, he has created a venue that is in many ways unique.
A Golf & Country Club with a difference…
Following a private road that leads through the estate's greenery past an open-air art park you come to the forecourt of an elegant building in classic Spanish country style. At this point this could be any number of grand country homes converting into a stylish golf & country club, yet there is much more to this one than that alone.
The elegant apparition that appears in a partial clearing in the tree cover is a stylish small country hotel, the classic hub of the estate. Here, visitors and invited guests, be they golfers, equestrians, hunters or simply those who come to relax and enjoy the natural surroundings stay within a setting with all the pedigree of a titled country home.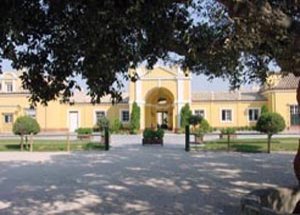 You needn't stray too far from this point before you reach the championship course that meanders magnificently amid views of the Atlantic and the little town of Vejer. They say golfers are blind to such distractions, for blind they would have to be. Erected in similar style to the hotel is the clubhouse, which caters to visiting golfers from different parts of Spain, Europe and indeed other corners of the golfing world.
From this particular vantage point, the views are down across salt lagoons to the white sandy beaches that give this region its fame. Further along is a large tract of protected virgin forest and heath, which ranges downhill towards a little hamlet from which the estate draws most of its workers. It is, however, when you catch your bearings and navigate back towards the lofty greens of this famous golf course that you spot something unusual.
An equestrian centre of international standing
Situated just off a fairway is a collection of wooden posts and railings that seems to create a complicated corral. Not to be confused with the open-air artworks displayed within part of the estate, I recognise it as some kind of equestrian facility, but am baffled when Don Antonio explains that it is used in carriage riding competitions – there hardly seems space enough to manoeuvre a horse through there at speed, let alone a team of horses and a carriage.
"Naturally it does require experience and skill," laughs the amicable sexagenarian, himself a master horseman and accomplished golfer. Further along we come to a stretch of farmland where not conventional produce but rather a variety of grasses is grown. The mystery of this unusual crop is solved when we reach a small plateau where one of the largest equestrian centres in the world comes into view.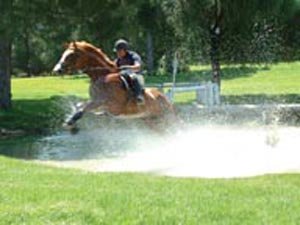 Such is the scale of this estate that even this huge centre, with its 1300 fixed horse boxes, 250 tack rooms, nine greens arenas, nine Damann sand arenas for show jumping, four dressage arenas and a 60 hectare cross country park for two-day eventing is swallowed up quite comfortably. The impressive facility, which hosts major international events, even contains its own four restaurants, a veterinary clinic, optical fibre system for filming, an advanced communications system for judges, a coach museum, a supermarket and parking for hundreds of cars and up to 400 trucks.
International pedigree
"We attract amateur and professional riders from around 50 countries," says our host. "At the biggest events there will be hundreds of riders, a couple thousand horses and up to several thousand spectators, so these are truly huge events with a logistical set-up to rival an F1 Grand Prix." He is more than entitled to be proud of this, his, creation, a first-class international facility that attracts the world's top riders, aficionados and also royals from Europe and the Middle East.
Don Antonio counts many of them as long-time friends, and has even had offers to develop the estate further. "I have drawn up plans to expand the golfing facilities, add another boutique hotel and also establish a small-scale luxury villa development with accompanying services concentrated in a little 'village'. But I want to do it my way, making the most of and respecting the stunning nature we have here, so there will be no clearing of forest or construction of dense or unsympathetically styles homes." To this end he is looking for partners to further develop one of the most unique country estates in Europe.