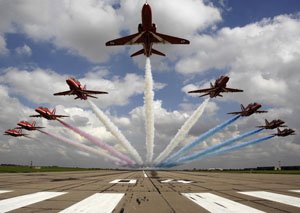 I think there's a certain glamour to aerobatics – that world in which elite groups of the world's finest pilots outdo one another to create the ballet of the skies. This synchronised dance of timing and daring is also one of the most dangerous activities you could sign up for, so there must be an element of madness in the steely nerve of these handpicked men – and women.
I admit it; I was quite surprised to see that two of the world's oldest and finest aerobatics teams, the Red Arrows and the Patrouille de France, now also have female pilots within their ranks. I know it's 2011 and that there are now women fighter pilots in the air forces of the US, UK, France, Germany, Spain, Holland, Canada, Australia and even the likes of Pakistan and the Philippines, but it still took me by surprise.
The Air Force elite
Pilots invited to join the aerobatics teams must be highly qualified and experienced, with a spotless service record and at least one operational tour in a fighter jet under their belts. In the case of the RAF that means the Tornado, Harrier or Eurofighter Typhoon, while for the French Armée de l'Air it includes the Dassault Mirage or Rafale – including those designed for nuclear delivery.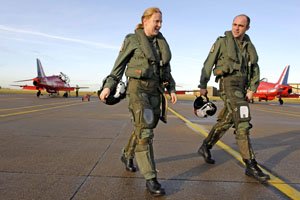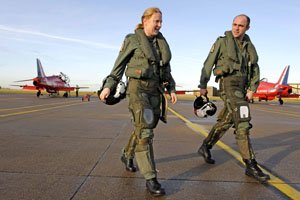 The ladies in question, Flight Lieutenant Kirsty Moore and Captain Virginie Guyot, have been selected because they are among the ace pilots in their air forces, and Ms. Guyot has since become the first female leader of an aerobatics team. Kirsty Moore's appointment caused the necessary stir, but the 33-year old has aviation fuel in her veins. Her father, a Tornado navigator who was shot down over Iraq during Desert Storm in 1991, was her inspiration, and in the typical no-nonsense style of the armed forces she has taken all the fuss in her stride.
"The girl thing is an aside for me because I have been a female all my life and I've been a pilot since joining the RAF," she said. "I know for outsiders it is a big thing, but for me it is about timing and someone was always going to be the first woman to join the Red Arrows."
Another woman with nerves of steel is 34-year old Virginie Guyot, who was a squadron leader flying the Mirage F1-CR on tours of duty in Chad, Tajikistan and Afghanistan before she became the very first female leader of an aerobatics team. The mother of one followed in the footsteps of another pioneer, Caroline Aigle, the first female fighter pilot in the history of the French Air Force.
Given her fighter pilot wings in 2002, Aigle was a fierce competitor who had toughed it out with the men in the elite mountain infantry, the Chasseurs Alpins, and won international titles in triathlon, skydiving and as a free-fall parachutist. She flew the Mirage 2000-5 and was being considered as an astronaut for the European Space Agency programme when she diagnosed with advanced skin cancer.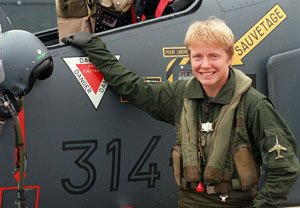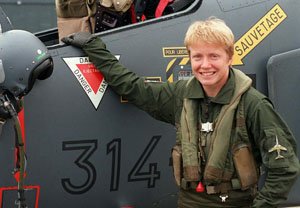 Little over four months pregnant at the time when she was told she had little time left, Aigle refused to have an abortion though this would have helped her treatment, and held on so that her son Gabriel could be delivered by Caesarean section five-and-a-half months into term. Caroline Aigle died two weeks later, but is remembered for her bravery and has become an inspiration for a whole new generation of women pilots.
Hers was a particularly female kind of bravery, of the kind we men can know very little of. Her husband, who now looks after their two sons, was a stunt pilot with the private Breitling aerobatics teams, and there is every chance that she would have been chosen for the sky blue Patrouille de France team herself.