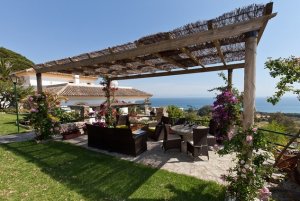 If modern life and its pace, demands and stresses is getting on top of you a Tarifa Escape may be just what you need. Picture this – a comfortable Spanish villa set against a gently sloping hill covered in beautiful umbrella pine trees looking straight out over untouched beaches and across the Atlantic to Cape Spartel in Morocco.
Just around the corner are the cool beach clubs and seaside restaurants of Tarifa, with the trendy little town down the road and Valdevaqueros Beach – Europe's top kite-surfing spot – a kilometre or two the other way. Here, ensconced within a lush canopy of greenery you are surrounded by two things: nature and views.
Close to nature
Though just a hundred metres or so off the coastal road, and therefore little more than that from Tarifa's famous beaches – the villa is located within a natural world protected by its status as part of the La Peña National Park. In fact, this reserve is rather unique in that it includes not only the Sierra Betica hills that the property backs onto, but also an entire stretch of coastline that extends out into the sea – making this a maritime nature reserve too.
The park rangers' information centre at the turnoff from the coastal road provides lots of information on the fauna and flora of this region, which is far more fascinating than you might have thought. For starters this is a paradise for bird lovers, with eagles, kestrels and falcons hovering overhead, storks nesting nearby and thousands of birds crossing the narrow straits between Europe and Africa on their seasonal migration.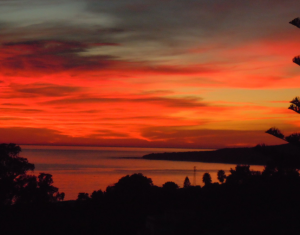 In Tarifa you can go out with conservationists and researchers to spot the many types of whales and dolphins that visit these waters, but few know of the mighty monsters that lurk at depths of 500 metres or more, creatures such as the giant squid, which fights ferocious deep-sea battles with sperm whales. A rare example of one is displayed at the information centre, a baby giant squid measuring 6.5 metres!
Precious relaxation
Apart from beaches, boating and surfing there are lots of other ways to enjoy the natural beauty of this region, including hiking trails, cycling, horse riding, rock climbing, quad biking and scuba diving. Alternatively, you may just want to relax and do as little as possible, sunbathing by the pool, reading on the terrace and taking in the views across the water, which are particularly inspiring at sunset. And if those glimpses of Morocco prove too tempting, you can always hop across to Tangier on the ferry.
For us it was a weekend of 'chilling' and recharging our batteries. We planned to but didn't even get around to all the activities, so they will have to be left for a later visit. It was so wonderful just to put your bags down in a charming, comfortable room, relax in the sun with those amazing views around you and be allowed to focus just on yourself for a little while. In our case this meant a mix of relaxed seclusion and socialising with the small group of other guests.
By day we would mostly do our own thing, then join up for a drink on the terrace before settling down to a wonderful and healthy meal. Yes, it was organic and vegetarian, but presented in such a way that even meat-eaters such as myself were happy to tuck in. The meals created by live-in chef Mariana reflect the philosophy of a retreat that focuses on health, peacefulness and the restorative powers of the natural surroundings, meditation, yoga, massages and learning new things, such as Mariana's raw food cooking workshops.
A special place
In bringing such a team together and creating such a special environment, Joanna Moran is fulfilling her dream to share with others the unique beauty of a place like this. She shows that Tarifa can be more than a trendy surfer's paradise. It is also a place of great natural impact that calms the mind and cleanses the spirit, the kind of place where people come to rest, stop feeling 'they have to do this or that', and are encouraged to be themselves.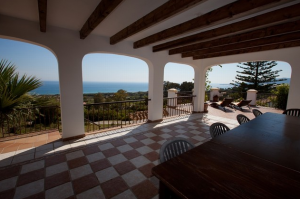 Tarifa Escape is an opportunity to rest and be restored, seek peace or socialise, or both, but while it offers everything from active sports and vegetarian food to yoga, meditation and a very conscious appreciation of the important things in life the really great thing about Joanna is that nothing is prescribed. In other words, you are free to experience it in your own way and therefore get out of this wonderful spot what you need. The team, meanwhile, are friendly, helpful and welcoming, but also personal and informal, making you feel like not like you're in a hotel or a health retreat, but sharing a very special place with friends.