Pearl Restaurant & Bar, in High Holborn, represents high London style and sophistication. A gem in the heart of the city.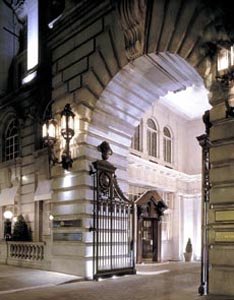 Situated at the extension of Oxford Street, Pearl is a perfect oasis of refinement after a day's intensive shopping. In fact, just the place to sink back into stylishly comfortable seats with your shopping trophies sprawled around you. Designed by renowned London stylists United Designers, the décor is chic and up to date, yet with a hint of 50s retro.
The warm, linear lines of this fine establishment put one in mind of Manhattan and exude a slightly masculine aura that is offset by exquisite curtains of pearls that separate the different seating areas. One million pearls have been used in all, though any sense of decadence is offset by the business-like building itself. You see, this was formerly the banking hall within the famous Pearl Assurance Building.
An icon of the city's financial tradition, this beautiful edifice recalls the grandeur of the Victorian era with its iron lanterns and gates, and imposing doorways in tropical wood. Stepping through the grand archway adds to the occasion and somehow makes you feel on rather important business. Maybe this is why the refined ambience of Pearl's bar is favoured by business people and shoppers alike, many of who order the most outlandish beverages and cocktails in an effort to catch out head barman Gustavo Bertolucci.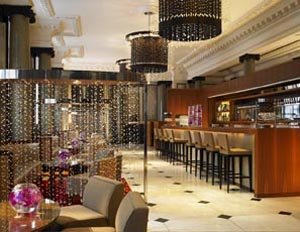 Somewhat of a celebrity thanks to his encyclopaedic knowledge of his trade, this prize-winning conjurer of exotic and innovative mixes is the best cocktail-shaker this side of Manhattan. Be nice to him and he may just invent one especially for you and add it to a growing repertoire that already includes the Nicotini Cocktail and his series of summer beer cocktails. One, the Immortal Cherry, combines Wisniowka cherry vodka with cherry Heering liquer, lemon juice, cherry juice, orange bitters and Morte Subite Kriek beer from Belgium.
A classic dining room
But enough of such frivolities. If Pearl's stylish bar and lounge area exudes an irresistible charm and elegance its restaurant does so no less. Now there are many fine dining spots in this city, so to make an impact you have to stand out and make a name for yourself. Pearl does so without any gimmicks, it simply is a stylish, sophisticated restaurant that boasts a classic style dining room.
The atmosphere is therefore rather grand, entirely in keeping with the exterior and entrance. Pearl offers modern French cuisine that has captured the imagination. Executive chef Jun Tanaka has honed his skills at seven Michelin star restaurants in the British capital, and offers diners a varied but beautifully crafted lunchtime and evening menu. One of the distinguished venues in London, the restaurant also offers Silhouette, a private dining room for up to 12 guests, so called because only the silhouettes of the other diners are visible through the bronze organza floor-to-ceiling curtains.
A venue in which to enjoy true London sophistication.