Marbella has many luxurious five-star hotels, but for a very exacting – and often famous – clientele there is something even more exclusive.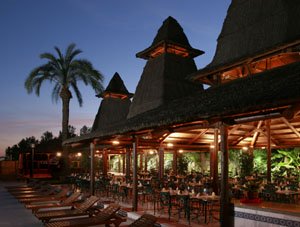 Already a five-star icon of Marbella, and one of its original luxury hotels, the Gran Melía Don Pepe also offers a trio of penthouse Presidential Suites that are the pinnacle of comfort and elegance.
Inaugurated by Prince Albert of Monaco, they represent the finest accommodation short of owning your own multi-million penthouse or villa overlooking the sea. Décor and trimmings are refined and opulent, as you may expect, with the suites consisting of a living area in the style of a luxurious apartment, and one or two bedroom suites, depending upon your preference.
Private access and a dedicated list of services, from bar staff to waiters, chefs and musicians ensure you could spend weeks here and never leave. But that would be a shame, as both the hotel and the location have so much to offer. Built in the halcyon days of Marbella, when prime spots like this were still within the realms of the possible, the Don Pepe occupies a sizeable chunk of perfect beachfront location – right where the Golden Mile and downtown Marbella meet.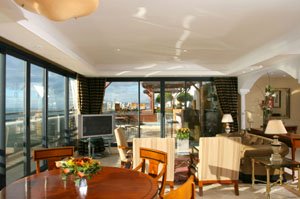 Here, ensconced within the greenery of the hotel, you can feel private and secluded or simply stroll out into the heart of glitzy Marbella, for this is chicest part of town, amid the ultra-luxurious apartments whose terraces are described as the 'hanging gardens of Marbella'. Unlike Babylon, however, there is no desert surrounding you, but lush greenery and a host of options.
To your left is Marbella, with its trendy shops and stylish restaurants, to your right the glamorous Puerto Banús marina, and right within lies one of the classic Marbella hotels. While thoroughly up to date, the Don Pepe exudes the classic appeal of Marbella. The preferred destination of many a celebrity, it offers space, elegance and refined service within a relaxed and discreet environment.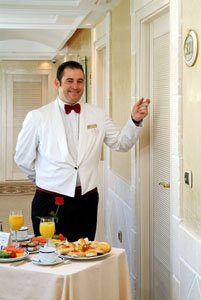 Private quarters
For those who enjoy the service of a top hotel but like the privacy of their own domain, the Presidential Suites provide a specially tailored option. Top end visitors enjoy the opulent ambience, while international celebrities are particularly keen on the element of privacy. Perhaps the finest features of these superlative suites are their individual rooftop terraces, which include an outdoor lounge area with bar, a sunbathing deck, beach club style double lounge beds and a Jacuzzi.
There are many fine perspectives from which to enjoy Mediterranean views in Marbella, but few – if any – can compete with this. If it weren't that you can turn around and enjoy panoramas of Marbella and the La Concha Mountain behind it, the sea views that face you could be those of a cruise liner. From this vantage point you can take in the coastline, Gibraltar and North Africa all in one glance – quite the place to have a private dinner or cocktail party.
It's exactly what many who stay in these suites do, and who could blame them. Connect the three suites, which is an option, and you may just be staying in the grandest penthouse in Marbella.