On one of the 115 islands that make up the archipelago nation of the Seychelles lays a resort that is quite different from your usual luxury retreat.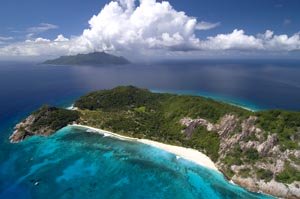 These days, there is no shortage of luxury destinations catering to every whim and desire of a well-heeled clientele. Some have cultural interest, some history or design, while most are simply luxurious, but how many of these places really have heart?
North Island, a tropical island resort within the Indian Ocean nation of Seychelles, is in many ways a typical luxury getaway of the kind one would find in the Maldives or Polynesia, and yet this sumptuously styled mini resort is different. The eleven guest villas and health spa are elegant, opulent and leave nothing to be desired in terms of comfort, luxury and service, and yet they are merely the by-product of a conservation process that has seen the indigenous fauna and flora of this little tropical island regenerated.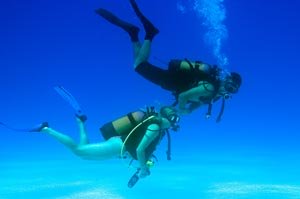 With just over fifty per cent of its territory protected, the Seychelles stands out as the country with the highest percentage of national parks. Since 1993 there has been a law in place that guarantees the country's citizen's the right to live in a clean and ecologically sound environment, yet wisely this law also places a great deal of responsibility for the establishment and maintenance of such an environment on the citizens in question. As a result, this little state is one of the cleanest and most environmentally conscious on the planet.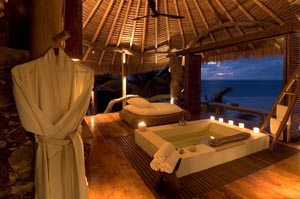 Paradise in harmony with nature
What makes the North Island resort so different is that its very premise is opposite to the norm. Where most luxury resorts of this kind might try to minimise their impact on the environment and attempt to work in a sustainable manner, they were all conceived first and foremost as commercial enterprises. North Island was conceived as a regeneration project for the country's endangered species – a place where they could thrive away from the demands of a permanent population.
Having cleaned up the island and reintroduced local species such as tropical plants, birds and tortoises, the idea arose to establish a luxury lodge built almost entirely from materials provided by the rehabilitation process. The tropical feel of the luxurious guest villas, the spa and the communal library, lounge and dining areas is therefore not mock, but real. Local wood, stone and thatch have been harnessed using traditional building techniques but combined with a masterful sense of design and good taste that makes the whole come together in a sumptuously stylish yet understated way.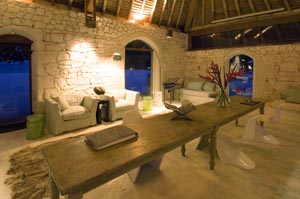 Lounge, bathroom, bedroom, terrace and palm-fringed views of the ocean merge into one entity as formal spaces flow into each other. The textures and fragrances are natural, the rooms cooled not by air conditioning but by clever design and natural ventilation. With cuisine that builds on the rich cornucopia of its surroundings, first-class service and a setting that is as romantic as one could possibly imagine, the only concession to alien comforts is an impressive wine cellar.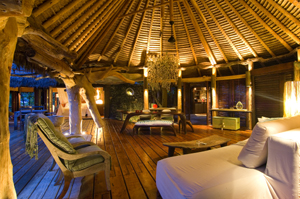 Artwork inspired by nearby Africa and spa treatments inspired by the sea conjure up a tropical paradise that is discreet and private, where white beaches encircle a private island dedicated to being just that – a tropical paradise in the truest sense. North Island is first and foremost intended to reclaim a natural paradise lost. As a resort its purpose is to show that man can enjoy the best of nature without destroying it, and in the process a place has been created that is not only luxurious and indulgent for those who can afford it, but that also makes a lasting impression on them. Indeed, if you cannot relax and find peace here there really is no hope for you.
www.north-island.com and www.north-islandspa.com