Tuesday, July 26th, 2011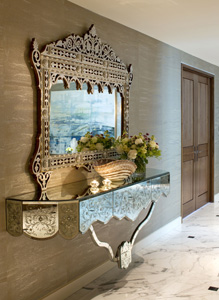 As the driving force behind Chelsea-based interior designers, Intarya, Kamini Ezralow is something of an expert in undertaking jobs for London's most discerning clientele. Formerly known as Lifestyles (interiors) Intarya combines the shortened form of 'international' and 'interiors', while 'arya' is a Buddhist term for someone who respects good character.
Ezralow's projects have included overseeing makeovers of expansive private residences, as well as major commercial projects, including highly prestigious commissions such as the penthouses in Dubai's World Trade Centre. Intarya's design of Celestial Hope (a mega-yacht) won prizes at the Monaco Boat Show.
The Lancasters, a supremely chic residence situated on the edge of London's Hyde Park, has also been the recipient of Intarya's magic touch. This 'revival' building has retained its attractive historical features outside, but inside it has been completely transformed, traditional touches existing in harmony with contemporary design.
The basic theme throughout is that of the Grand Tour, a custom that thrived amongst the upper classes from about the 1660s until the 1840s, when wealthy young men would travel through Europe on a cultural pilgrimage. Their tendency to buy vast quantities of mementoes as they moved from country to country resulted in an increasingly eclectic style of interior design that showcased artistic trends from across the continent. (more…)