Monday, March 21st, 2016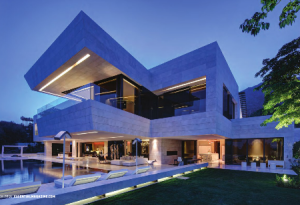 If you can choose between Zaha Hadid, Norman Foster and the pick of the world's architects your home is sure to be something truly special. El Nido is just that.
Amid the grand villas and mansions of the Golden Mile, La Zagaleta, Los Monteros and other prime Marbella addresses there is one property that takes residential architectural design to a new level. Set in the peaceful surroundings of La Cascada de Camoján, in the hills above Marbella, El Nido is unique in its aesthetic and practical appeal. It is a home of outstanding qualities that can be described as a masterpiece of modern Mediterranean architecture, and as such suits its Marbella setting so well.
"I wanted a villa that would make a true architectural statement as well as be a comfortable home," says Lisa, who has played a leading role in the creation of her signature home. "A leading architect would naturally form an important part of this process, so I flirted with the idea of commissioning someone like Zaha Hadid or Norman Foster but in the end fell in love with the work of Joaquín Torres." The Madrid-based architect is a leader in the field of villa design and has the main residences of many prominent Spanish and international clients to his name, including the likes of Cristiano Ronaldo and Penelope Cruz. (more…)