Monday, March 21st, 2011
No- and low-alcohol beers have been gaining some traction of late in several markets but there's one country where NABLABs have been embraced by consumers like no other. Michel Cruz reports from Spain on the rise of low alcohol refreshment.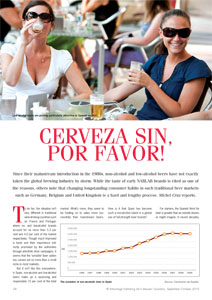 In many ways the Spanish beer market is much like that of the rest of Europe. After years of rapid growth the current economic climate has seen production drop somewhat, with on-trade sales falling and consumer focus turning to economy brands available through off-trade channels. Where the country clearly stands out, though is the fact that Non-Alcoholic Beers and Low-Alcohol Beers (NABLAB) are consumed at around three to four times the average European rate. We wondered why.
Since their mainstream introduction in the 1980s non-alcohol and low-alcohol beers have not exactly taken the industry by storm. Most beer drinkers still prefer the taste of alcohol in their lager and continue to overwhelmingly consume 'conventional' beer types in spite of the pressures of anti-drink driving campaigns. Many seem prepared to single out a 'designated driver' for abstention rather than opting for the range of alcohol-free products that are available. While the taste of early NABLABs is cited as one of the reasons, others point to the fact that changing longstanding consumer habits in such traditional beer markets as Germany, Belgium and the UK is a hard and lengthy process. (more…)