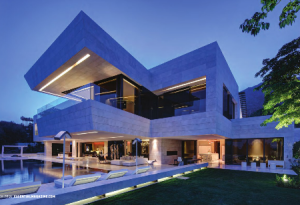 If you can choose between Zaha Hadid, Norman Foster and the pick of the world's architects your home is sure to be something truly special. El Nido is just that.
Amid the grand villas and mansions of the Golden Mile, La Zagaleta, Los Monteros and other prime Marbella addresses there is one property that takes residential architectural design to a new level. Set in the peaceful surroundings of La Cascada de Camoján, in the hills above Marbella, El Nido is unique in its aesthetic and practical appeal. It is a home of outstanding qualities that can be described as a masterpiece of modern Mediterranean architecture, and as such suits its Marbella setting so well.
"I wanted a villa that would make a true architectural statement as well as be a comfortable home," says Lisa, who has played a leading role in the creation of her signature home. "A leading architect would naturally form an important part of this process, so I flirted with the idea of commissioning someone like Zaha Hadid or Norman Foster but in the end fell in love with the work of Joaquín Torres." The Madrid-based architect is a leader in the field of villa design and has the main residences of many prominent Spanish and international clients to his name, including the likes of Cristiano Ronaldo and Penelope Cruz.
"I was seduced by his proposal for the villa," says Lisa, who saw in the proposed design a true reflection of her own vision. "Joaquín's work is characterised by a mastery of forms, dimensions and light that brings a house to life and makes it stand out as a unique work of art." His artful manipulation of space produces a seamless flow of living spaces that are at once intimate and interconnected, while the geometry he creates is characterised by sleek horizontal layers that fit in with the modern architectural vernacular but are given added dimension by mesmerising converging and diverging lines.
It is this singular ability to produce a clean, modern look at the cutting edge of contemporary styling yet imbue it with a great deal of subtle architectural detail that has produced a unique masterpiece of international standing in the foothills of Marbella. "Joaquín Torres wants to outdo himself with each project, and with El Nido I believe he has done it again," says Lisa. She named the home El Nido – The Nest – because it is a comfortable private domain nestled amid the greenery at the base of La Concha Mountain. "From this position you enjoy total peace and privacy within your own little world, along with wonderful sea views and at just a short drive to all amenities. In many ways it is ideal."
A home built around a work of art
If the architect's brief – to create a comfortable, practical, private home of outstanding architectural quality – was not tough enough already, he also had to compete with a work of art that had every potential of stealing the show. "A lesser professional might have struggled with this idea, but I think designing a home around a large centrepiece actually inspired him." Joaquín Torres's instincts were spot on when he divined that he should 'wrap' the home around The Pulse, a 15-metre steel structure that as a result forms the imposing focal point and indeed visual connection between different parts of the home.
"This creates lots of marvellous vantage points," says Lisa, "allowing us to enjoy this unique feature from different angles and elevation points." As you approach the villa it is the impressive architectural lines of the Travertine-clad walls that capture your attention, but let the iron gate glide open and step down towards the main entrance to the sound of quietly trickling water features and a great deal of discreet visual detail comes into view. In the evening the lighting adds further detail to a home that is a well-balanced synthesis of form and function. As the grand modern entrance door sweeps open and you step into the home you come into contact with The Pulse, its red steel structure the beating heart of a home dedicated to art and style.
Created by Arne Quinze, a Belgian artist whose vanguardist work is displayed in locations from the Statue of Liberty in New York to the Saatchi Gallery in London, The Pulse was originally designed in a scale model before being made and shipped from Belgium to Spain. "Transporting and then placing such a large sculpture represented quite a logistical challenge," says Lisa, but it was well worth it, for as much as the architecture it is The Pulse that makes this home truly stand out." Indeed, not only does it form the focal point around which El Nido has taken shape, but this artwork may one day actually be worth even more than the villa itself.
Living as an art
The different tones of light that play on the steel sculpture during the day are replaced by ambient light and the choice of projected patterns to suit your mood. In fact, as you would expect in a home of this stature, El Nido may be an ode to architecture and art on the outside, but beneath the skin it is very much a showcase of 21st century technology and engineering – harnessed in this case to offer optimal comfort and luxury. A good example of this is the main living area, where the reception room flows into a salon that overlooks a sumptuous terrace, pool and garden crowned by Mediterranean views.
If you like that view you simply touch a button and the glass door slides down vertically, not horizontally. This outdoor area is very much an extension of the villa's refined interior spaces, and continues its rarefied lifestyle in an al fresco setting. Here the architectural beauty of the villa comes into true perspective, mesmerising the eye with its elegant lines and gradually perceptible details. The light Travertine marble tones contrast with dark windows that offer privacy whilst also adding to the layered features of the home, while part of the terrace is covered by an extended cantilever roofline that also forms a design feature in spaces such as the kitchen and office.
The sophistication of the interior, with its collected art and dining room featuring made-to-measure furniture designed by Joaquín Torres, is mirrored outside, where the sophistication continues in lounging and dining areas by the imposing dark-tiled pool that feature their own outdoor high definition TV, which appears from the lawn at the touch of a button. Everything about this property speaks of style, from the manicured garden and architecturally styled dog kennel to the championship tennis course and the designer catering kitchen that serves a large communal dining table surrounded by artwork – the crowning piece of which is an 'urban forest' by Rafael Llamazares that pleases the eye and adds to the privacy of the garden.
Inside, the aforementioned dining room looks out upon a modern glass wine cellar whose play of colour settings make it a design feature in its own right. The bodega is also reachable from a Poggenpohl kitchen that matches high catering capacity with clean minimalist styling topped off by lighting globes designed by Tom Dixon. A similarly voluminous and impressive space is the private study, flanked on the far side by the private guest apartments, which have their own access to a multi-car garage with glass wall that allows you to showcase your collector cars. The main suite is a similar blend of seamless practicality married to immaculate style, with each of the family bedrooms offering its own personal space and style.
But this is a home designed for and used to hosting guests of the highest level, so a popular area is the spa on the lower level. Unlike some villas, it feels connected to the rest of the
home, enjoying natural light and also its own views of The Pulse. Indeed, virtually every room in the villa is fed with natural light, and the private beauty salon, gym and wet bar bordering the 17-metre indoor swimming room are no exception, though understandably the steam room and sauna are. In its architectural styling, interconnected layout and celebration of art El Nido is not only a unique home, but in reality one that stands apart from the rest and in so doing has raised the bar for contemporary luxury living in Marbella.
Engel & Völkers, Marbella – Golden Mile Office, www.marbella-ev.com
First published in Essential Marbella Magazine P.86
Photography: Wayne Chasan