Tuesday, July 19th, 2011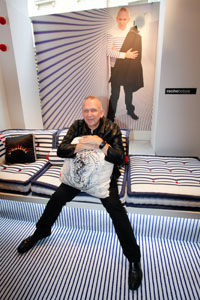 The name Roche Bobois is synonymous with quality and style, its position in the luxury furniture market as strong as ever, so the company's 50th anniversary was the perfect moment to launch its latest manifesto: The 10 Commandments of Design.
Enlisting the assistance of France's bad boy of design, Jean-Paul Gaultier, the 50th anniversary collection is a genuinely stunning blend of a classic furniture brand's coming together with one of the main players in 21st century fashion.
Roche Bobois has a long history of working with designers from the world of haute couture, Emanuel Ungaro and Kenzo Takada being just two of the major names to be associated with this illustrious furniture company. One of the enduring traits of Roche Bobois has been the fact that it's never been afraid to embrace new ideas, which probably accounts at least in part for its success and longevity.
Jean-Paul Gaultier started his career with a carefully cultivated reputation as high fashion's clown prince, but with the passing of the years he has been embraced as a truly original creator of some of Europe's most striking and unique fashion.