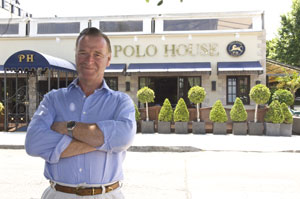 Beleaguered by paparazzi, James Hewitt left London in search of peace and pastures new. He chose Marbella as his new abode and has since created a touch of stylish London along the famous Golden Mile.
Standing prominently among the trendy new-style eateries and nightspots of Marbella's Golden Mile is the Polo House, an exclusive restaurant and bar with a distinctly British club atmosphere. By this I don't mean nightclub, but gentleman's club, for the Polo House harnesses the finest of English traits to evoke a sophisticated, elegant and almost colonial ambience. Here, classic good breeding and the old-worldly refinement for which the British were once renowned still seem to hang in the air. Indeed, the Polo House has a somewhat aristocratic feel about it and the timeless décor reflects it.
"I wanted to get away from London and settle down somewhere new," says former cavalry captain and socialite James Hewitt, who subsequently chose Marbella as his home of preference. "Having been fortunate enough to have travelled and dined extensively in some of the world's most charming locations, and being someone who loves the arts of fine food, wine and entertaining, I had carried around the thought of a place like the Polo House for some time." The establishment he calls 'Haute Clubby' has become rather reflective of him.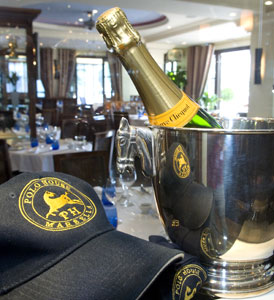 "It is very much a part of me," says Hewitt. "I took an active role in the creation and decorating of the Polo House and continue to do so in the daily running and the greeting of our guests." The latter have proved to be as eclectic a clientele as one would expect in cosmopolitan Marbella, ranging from aristocrats and entrepreneurs to actors, professional golfers and football players. Though he has made an effort to create an ambience that is select yet not exclusionary, James Hewitt's labour of love has become known as one of the most stylish venues in Marbella – making it a favourite of old money in the town.
British gentility in Marbella
He has travelled a lot and lived abroad, yet James Hewitt was not attracted by the idea of leaving Europe too far behind. "I love travelling and would still very much like to discover places like India, Vietnam and Argentina, but I have a real passion for Europe, and would miss our continent's cultural richness." Though he has lived in Switzerland and France before, he chose Marbella for the outdoor lifestyle, the exciting, cosmopolitan atmosphere and above all the personal freedom one enjoys here. "For me, the UK has become rather stifling, with all its rules and prescriptions, whereas this is a place where ordinary citizens are still allowed to enjoy their lives in peace."
Having first come here to spend a summer with friends some 20 years ago, Hewitt has developed an affinity with a place he regards as having ongoing potential. Though temporarily 'out of the saddle' he plans to get back to playing polo again, and regularly attends the Gold Cup and other tournaments in Sotogrande. "The standard is good, the atmosphere great and the matches are very well attended. I think I won't be able to resist the urge to join a team much longer." This sport, internationally recognised for its stylish connotations, also features prominently in his restaurant. "It is part of me and also part of the atmosphere at the Polo House."
Open for cocktails and fine dining from a sophisticated menu, the Polo House is enlivened with atmospheric piano, while on weekends The Four Tops, the Rat Pack and burlesque performances top the night for a refined evening out away from teenagers and techno music. In other words, the perfect place for adults with style.
Preferences
Best holiday
That would have to be skiing or shooting. I love the mountains, so I would opt for skiing, and having lived in Switzerland my favourite resort is Zermatt because it has good snow, fine food and a wonderful ambience.
Best city
I love Paris, but I have also fallen for Madrid. It is stylish, with grand architecture and a lot of culture, but it is also lively and real; a very intoxicating mix. In winter it's hard to beat Vienna, though. Stay at the Imperial Hotel and be sure to visit the Christmas market.
Rolls Royce or Aston Martin
I have had a classic '58 Bentley, but given the choice between those two I would go for an Aston Martin – DB9.
Watch
A gold Patek Philippe is the ultimate. For everyday use, a hardwearing stainless steel Rolex.
Savile Row or Dolce & Gabana
Savile Row, without a doubt.
Polo ponies or a yacht
I think I would stick with what I know and go for a string of four polo ponies.
Villa or penthouse
I can see the appeal of a penthouse to someone who travels a lot, but for me a villa is still the one to have because it offers space, privacy, a pool and garden, and allows you to entertain properly.
Modern or rustic
Definitely rustic, with lots of character please. For me a kitchen is the most important room in a house, so I look for rustic charm combined with quality gourmet cooking equipment. That means grills, gas heating and, of course, an Aga. I would solve the yacht issue by decorating the master bedroom in the style of a classic yacht.
Home cinema or library
A library and study, for sure, though allowing for a flat screen television.
You are perceived by many to be a quintessential English gentleman. How do you feel about that?
People often seem disappointed when my first instinct is to deny it, but I suppose in the end it is the case.
Do you think there is a place in today's world for the values and bearing that come with it?
Oh yes, more than ever. There is such a lack of decorum and respect these days that old-fashioned attributes such as steadfastness and good manners really do stand you in good stead. After all, it's what we built an empire on.
Michel Cruz interviewed James Hewitt for Tout magazine August 2010
Photography Johnny Gates