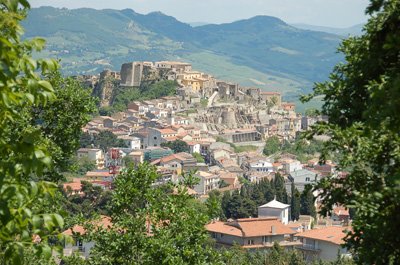 After having lived abroad for many years and travelled widely we came upon this little village in the hills not far from Avellino, in the Campania region of Italy. It was a bit like discovering a Tuscan or Gascon village in the 1950s or 60s, for this was authentic Italy untouched by tourists or mass development.
We fell in love with Calitri, with the Italians, their countryside, culture and food. Oh, the food, even the simplest salad or pasta, when made from local ingredients bought in the Calitri market, is a true delight – and when you can enjoy it with the French doors open and letting in the sights and sounds of the countryside, then you've got your touch of Mediterranean idyll right there.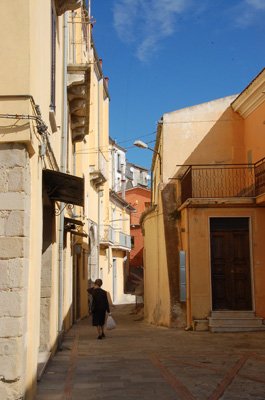 Calitri is real and earthy, typically Italian and it enjoys a calm, measured way of life centred around that most prized of institutions in Italy, la famiglia. Traditions still count and although it sounds like a cliché and this isn't a place wanting for modern amenities, there is a sense that time hasn't dragged this part of the world along too fast.
The new quarter adds a lively element, with shops, cafés, ostería restaurants and lots of folk about, but it is the old quarter that most strongly evokes the charm of the Italian countryside. A maze of pastel-coloured houses draped along a hillside and dissected by paths and alleyways, it looks out over a valley where locals keep animals and work their allotments.
Zoom out and a backdrop of rolling green fields and wooded valleys extends into the distance, dotted with villages and farmsteads. Our attention was drawn to this part of the world by a young Italian couple from Rome who gave up their urban, corporate existence to pursue a more personal dream of revitalising the villages of this region. Having seen how Europeans were snapping up properties both coastal and rustic, they decided to provide an authentic alternative for those with a taste for the real Italy.
We were inspired by their plan to renovate old village properties and sell them on to a limited number of outsiders, be they Italian or foreign. Unfortunately their compatriots have eyes only for the seaside, so it was mostly Americans, Brits and Irishmen who were attracted to the idea of owning a little getaway in the Italian hills, and coming here to discover their roots or recharge their batteries.
The pioneering couple placed great value in renovating the properties as traditionally as possible, where possible using local traditional materials and craftsmen. It was another reason we liked their plans so much, and it inspired us to keep things as authentic as possible and spend our money in the village, the one compromise being a modern kitchen. That said, our little pied-à-terre in Calitri is comfy and cosy, but also charming and as authentic as a property with modern comforts can be.
We love our place and the time we spend here, and we've made lots of friends – locals and fellow foreigners – with whom we regularly stay in touch. We have the beginnings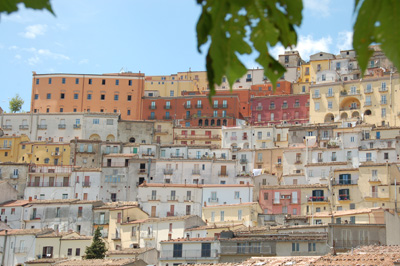 of some Italian and we use Calitri as a base to discover new sights, including Amalfi, Naples and Rome, and have plans to see Pompeii, Bari, the Adriatic and so much more.
We also rent our little Casa dell'Esploratore out to those who travelling and wanting to discover a touch of real authentic Italy, so please contact us if you would like to see and experience it for yourself.