Words: Michel Cruz
Photography: Kevin Horn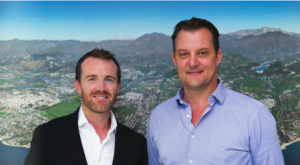 After a hiatus of several years, construction activity has recommenced in Marbella. We spoke to some of the leading developers in the area about a new era of development.
The construction sector was one of the biggest victims of the global financial crisis and Spanish property crash that hit Marbella at the end of 2008. In its wake, no new projects were launched and building gradually ground to a halt, while recently finished developments found it hard to find buyers. Many promoters had to abandon ship, leaving half completed construction sites behind as the banks inherited an unwanted portfolio of real estate.
By 2010 the once flourishing sector was in dire straits, its main activity now the construction of luxurious individual villas in spots such as La Zagaleta and the renovation of old properties by specialist small-scale developers. In the midst of this, however, a few companies had the foresight and confidence in the local market to approach the banks and begin to finish projects, upgrade and market them, and add post-sale management services not seen here before.
The success they achieved at a time when most of Europe was still in full recession and the press spoke of the Spanish property sector in disparaging terms is not just impressive, but admirable. As the Costa del Sol was one of the first regions to emerge out of the shadows and back into growth it saw the early transition from the redevelopment and sale of unfinished, unsold projects to the creation of new ones. International funds were quick to grasp the opportunities, and have helped spurn a new era of property development on the Costa del Sol.
The return of construction in the region has, however, coincided with a major shift in consumer tastes. Together with new technologies this has opened up a whole new age of development that over the coming years will slowly transform not just how Marbella and surroundings look, but also what its housing stock offers. We spoke to leading local developers about Marbella property development in the 21st century.
Michael Liggan, Altavista Property
The company
Founded at the height of the recession, Altavista Property has grown into one of the leading real estate companies and specialist property developers on the Costa del Sol. The company's experience in the marketing of redeveloped projects produced an expertise that is now applied to new projects such as the highly successful La Finca de Marbella. "Initially we were primarily focused on marketing and sales," says owner and founder Michael Liggan, "but the close involvement in the repurposing of developments to suit the needs and tastes of today's buyer has evolved into a partnership with Stuart Clark and the creation of  property development projects of our own."
The process
According to Michael, the selection of an existing development or new-build project is based above all on common sense and the classic values of location, quality, style and cost. "A good question to ask yourself is would you like to live there, and what could you do to make it better." It isn't all plain sailing for developers though as in Marbella the legal aspects of land are very much at the forefront of any pre-analysis. "Beyond studying the legal status of the land we look at the desirability of the location and the possible product distribution on it. In other words, can the plot comfortably hold the type of property that is envisaged? If all these criteria are met we analyse projected product cost against envisaged income and sales potential."
These are the things prospective investors are most interested in, and since banks are still not providing this kind of funding it is private capital that is needed, both in the form of private investors and funds. "It depends on the criteria of the individual or fund in question as to what will pique their interest," says Michael. "Generally speaking once you have demonstrated your seriousness, your understanding of the market, your experience and your ability to get the job done in what is at times a tricky playing field, then it's all about the numbers."
The product
Asked about the ingredients that make a successful development in today's market, he answers: "This never changes – location, location, location, followed by design, quality and price. In the case of a redevelopment project it would depend on the product in question, but the idea would always be to lift the product to today's standards in order to meet the requirements of today's buyer." Beyond this the company provides ongoing on-site management too, a feature that characterises the long-term approach of the more serious developers. "For us it's mainly about administering the communities we deliver and maintaining what's been built. Our projects are the reflection of what we are about so we want them to continue looking as good as new."
Future development
"The invalidating of the 2010 PGOU by the Spanish Supreme Court means there will be a lack of land for new construction in Marbella over the next three years or so until a new PGOU is drawn up and ratified," says Michael, "so what is built now should be exemplary. As developers, we have a unique opportunity to shape Marbella's aesthetical future and should use it to ensure that new build is attractive, functional, ecological and of high quality. The speculation of yesteryear, which drove prices up and quality down, is no longer present in today's market and as such we should focus on attending to our buyers' real needs. As local developers we have a very clear vision of the future: we believe in maintaining strong aesthetical values and combining these with state of the art functionality to produce landmark buildings for the future and provide the town with the architecture it deserves."

Taylor Cox, Real Capital Solutions
The company
Backed by a US investment fund, RCS first entered the Spanish market at a time when the banks still held vast portfolios of distressed properties. Recognising the potential of Marbella, the company focused on the redevelopment and commercialisation of projects in the area, though it is also pursuing opportunities in the Balearic Islands, Costa Blanca and Portugal. In a relatively short time RCS has built up an impressive portfolio and a reputation for results based on quality and innovation.
The approach
"We look at a lot of prospective plots," says Taylor, whose operation is now also moving towards new construction. "Only one out of ten are suitable as you have to be very strict on factors of location, orientation, accessibility and overall quality. Only when all these factors come together and you feel that it is a desirable location is it worth pursuing. Price alone is not a determining factor as you have to offer the client quality and value throughout the price ranges."
RCS was one of the first to see the potential in the market, redeveloping projects with great success at a time when the property sector was feeling rather sorry for itself. "The situation was somewhat different in the resale market, but there was a demand for new homes and we were in a position to modernise and upgrade the projects we took on." And this is something Taylor and his team have become experts in, though he stresses that it is not a simple value added formula that he follows.
The product
"Each project, be it a redevelopment or a new-build, deserves careful thought and attention to detail. Those who focus purely on maximising profit in the short term may be happy to copy and paste, but we are building a brand for the future and base our success on offering our clients something special and unique in each development." If assessing the potential of a project is based on market knowledge then the skill involved in producing the right kind of product comes from a keen understanding of what your clientele wants. RCS got it right when they upgraded and modernised projects with telling details such as new flooring, opened kitchens and modern worktops. "We always start by asking ourselves why we are in this business specifically. Of course it is to make money, but we like to do this while also being proud of what we do, and we believe the latter leads to a great product, which itself ensures commercial success."
Future development
The next step is ensuring the product offers value. "To create something special we take our time to make sure we get it right. If this means revisiting details so be it, for it's the details that make the difference." Even the success of La Montesa, in which RCS and Altavista worked together, will not be repeated in other projects because "each plot, location and development requires a personal approach. Competition is driving land prices up, so we have to make sure that what we produce is not just modern, but exceptional and unique. This is what drives us, and if the market heats up to the point where we believe it is best to step out for a while that is exactly what we'll do, because we want to be here after the next boom."
Fausto Martínez, FM Consulting Group
The company
Having recently celebrated its 25th anniversary as a multifaceted real estate company, FM Consulting is one of the longest established property firms in the region. More than just a promoter, its specialisation follows the entire value chain, from conceiving original concepts and land acquisition through to product development, construction, finishing, marketing and sales to ongoing management.  As a result, the group has a long list of emblematic projects to its name across the Costa del Sol.
The philosophy
"What I am proud of is the reputation we have built up in 25 years for being a serious, professional company that produces quality products and subsequently maintains and manages them to very high standards," says the founder and CEO of one of Marbella's most highly respected property development companies. The fact that Fausto Martínez is the sort of person who personally reviews client feedback every Monday morning says it all about the man known for his punctuality, efficiency and perfectionism.
The product
Having been one of the pioneers in taking home amenities and on-site services to a new level, FM Consulting is well positioned to be at the forefront of developments now too. "Modern is the buzz word of the moment," says Fausto, "but we are very aware of the fact that people will eventually become a little fatigued by all those straight white walls, so we are always looking at evolving the styles both inside and out."
Ultimately, there is a right and wrong way of approaching most things, and from Fausto's point of view the latter is often the product of a lack of seriousness and commitment to both the sector and the region. "We are here to stay, so naturally we do our utmost to create developments whose design and features offer enjoyment and create added value through stronger sales price performance." To this is added a level of service that is very hard to equal and which draws upon the hotel industry roots of Fausto and his brother Juan Jesús. "A lot of companies say they offer maintenance, management and rentals services, but few go the whole way like we do, employing a year-round team of almost 30 skilled people dedicated to providing the kind of quality service that is rewarded with an average rating of 9.6 on TripAdvisor."
The bigger picture
For Fausto Martínez it is, however, about more than personal success alone. "Our brand is strong, but we form part of the greater Marbella brand, which we have to work hard to nurture and improve even if it isn't directly related to our own daily operation." For this reason he has long been an advocate of creating a sense of excellence in key local industries such as hotels and restaurants, and is working together with other entrepreneurs and local authorities to promote and improve the Golden Triangle of Marbella, Benahavís and Estepona. Again, the company's up-and-coming projects, to be launched next Easter, are both located within the municipal boundaries of Estepona, but like his peers at Altavista and RCS, Fausto believes property developers have a responsibility towards the future urban landscape and desirability of the entire Costa del Sol.
Originally published in Essential Magazine